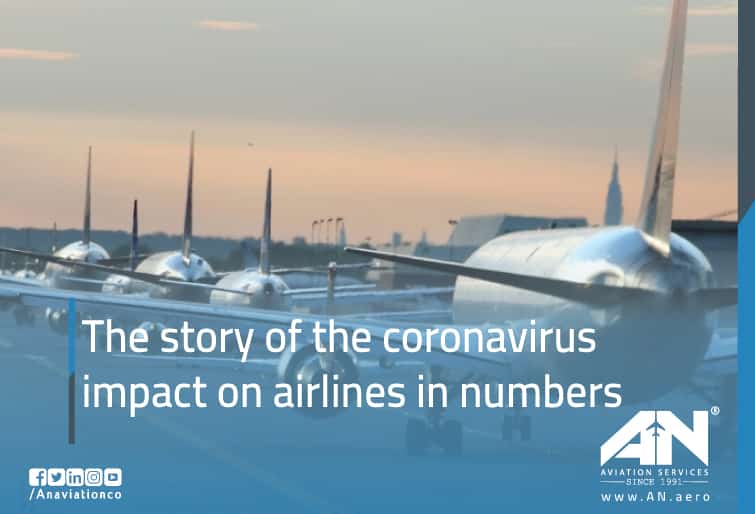 After years of record traffic growth and unprecedented profitability, the airline industry is facing the sharpest and most sustained fall in demand as the coronavirus pandemic has brought international travel to a virtual standstill.
No region escapes traffic grounding
Travel and quarantine restrictions – coronavirus – implemented by countries as part of national lockdowns have resulted in the virtual grounding of scheduled international passenger flights during the second quarter.
As a result, IATA expects air travel demand, measured in RPKs, to this year be down almost half on 2019 levels. Traffic among European carriers is forecast to be down 55%, while it will be around half the 2019 levels in all other regions except North America.
Traffic for carriers in the latter is expected to be 36% down in 2019, the lower rate of reduction reflecting continued activity in the large US domestic market.
That outlook is in line with projections from airports body ACI World. It forecasts that global passenger numbers will more than halve this year.
The crisis will, ACI estimates, result in a reduction of 2 billion passengers at airports during the second quarter alone, and 4.6 billion across 2020 as a whole. That compares with the record high of 9.1 billion passengers handled at airports in 2019.
More than half of passenger revenue lost in 2020
In mid-April, IATA forecast that $314 billion in collective airline passenger revenues would be wiped out this year – a 55% fall on 2019's figures.
IATA's prediction marked a deepening of the projected impact on the industry as the scale of restrictions to deal with the outbreak became clearer.
It was based on projections that traffic would be all but wiped out aside from big domestic markets, such as China and the USA, during the second quarter.
Airline efforts to restore services have so far been tentative, with most pushing hopes for any significant resumption in air travel into July. That would fit with IATA's expectations for some level of restart in the third quarter, but with demand and activity remaining significantly down for the rest of the year.
Demand may not return to pre-crisis levels before 2023
IATA expects an improvement in air travel demand to lag economic recovery by up to two years. Its baseline forecast envisages air traffic demand still down 24% next year against 2019 levels.
As IATA had originally projected continued steady growth in 2020 and 2021, it means its revised outlook for next year is 32% down on its pre-crisis expectations. Under this scenario, it does not see passenger traffic returning to 2019 levels until 2023.
But IATA also flagged a more pessimistic view – applicable if there is a slower opening up of economies and the lifting of travel restrictions is pushed further in the third quarter. Under that scenario, IATA expects traffic to be 34% below 2019 levels – and 41% below its pre-crisis expectations for 2021.
Even under its most positive outlook, IATA still projects passenger traffic in 2025 will remain 10% below the levels originally envisaged before the crisis.
Rising debt levels to slow recovery
One of the key reasons airlines have been able to stave off collapse has been their ability to access fresh funding. For some major carriers, that has been done via the commercial markets. But for many others, it has come in the form of government aid. IATA calculates that more than half of this state aid is in repayable forms, such as loans, guarantees, or deferred taxes.
As a result, IATA sees collective debt levels increasing more than a quarter, to around $550 billion by year-end. While that has provided airlines with breathing space to survive the crisis, IATA warns it will weigh heavily on carriers in the recovery phase – especially with the challenging revenue climate likely to follow. This will create more pressure on carriers to generate the necessary cash flow to service higher debt levels.
Oil price falls provide mixed blessing
A sharp fall in oil prices has accompanied the crisis. The barrel price of Brent Crude began the year just below the $70 level. Already on the slide before the crisis, prices plummeted as the outbreak spread, falling from just under $60 to below $20 over two months, though during May it climbed back over the $30 mark.
While lower fuel prices provide a welcome reduction in airline operating costs, this benefit is partly diminished by both the sharp reduction in capacity levels and existing fuel hedges. The latter, particularly evident among European operators, means losses have been taken on some fuel hedges.
The fall in oil demand also impacts economic growth in countries heavily dependent on the sector, notably within the Middle East, Central Asia, Latin America, and Africa.
Governments step up to save airlines
A number of governments have acted to provide financial support for their airlines. IATA in late May estimated governments had provided around $123 billion in financial aid to airlines during the crisis. The largest share of this – more than $50 billion – is in the form of loans, while around $35 billion in wage subsidies.
But this has been a fragmented approach, differing by region – and by country within that region. While the likes of the USA, Singapore, and France, for example, have provided packages to support their carriers, others have seen little assistance.
IATA points to the relatively limited state aid provided to carriers in Africa, Latin America, and the Middle East. Notably, Latin America's biggest two carriers, LATAM Airlines Group and Avianca have both been forced into formal restructuring via US Chapter 11 bankruptcy protection.
The passenger fleet gradually starts flying again
Tracking by Cirium's research team estimates that at the peak of the crisis in April, just under 17,000 widebodies, narrowbodies, and regional aircraft were parked – accounting for around 64% of the global fleet. As of 3 June, Cirium reports that 54% of the global fleet remains in storage.
Much of the fleet that remained active was serving domestic markets, repatriation flights, or was redeployed on cargo missions to fill the void created by the loss of belly capacity from the grounded passenger fleet.
Cargo slumps despite freighter boom
While demand has seldom been higher for freighter operators and airlines have been able to redeploy some of their passenger aircraft on cargo missions, this partly disguises that the wider picture for air freight has been tough.
IATA figures for April show global air freight demand down nearly 28% compared with the same month last year – the sharpest fall ever recorded. But because three-quarters of passenger aircraft belly hold capacity was removed from the market by the coronavirus grounding, demand still outstripped supply.
Total capacity was cut 42% in April, though there was a 15% rise in dedicated freighter capacity.
"There is a severe capacity crunch in air cargo. Airlines are deploying as much capacity as possible, including special charter operations and the temporary use of passenger cabins for cargo," says IATA director general Alexandre de Juniac.