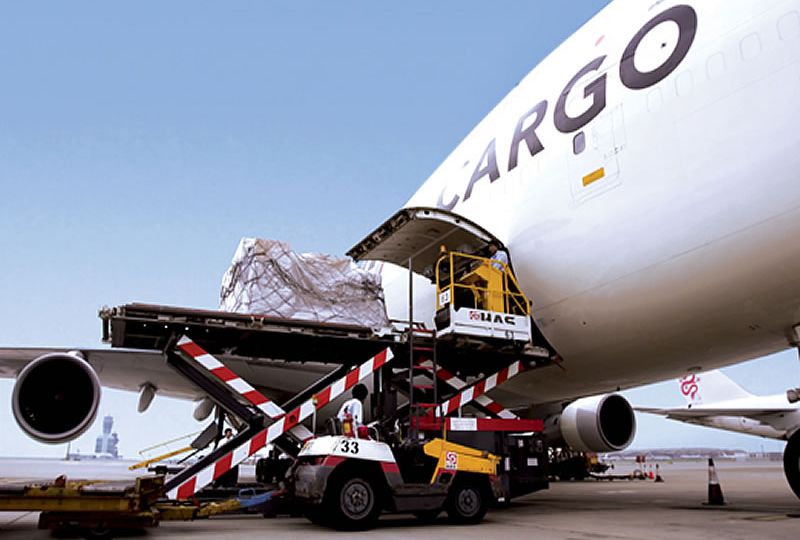 Air cargo is any property carried or to be carried in an aircraft. Air cargo comprises air freight, air express, and airmail.
It allows the transport of goods quickly by air. Shipping cargo by air has always been a high cost-to-weight form of shipment, countered by the fact that it's the fastest way to transport goods internationally.
Aircraft types
Different cargo can be transported by passenger, cargo, or combi aircraft:
Passenger aircraft use the spare volume in the airplane's baggage hold (the "belly") that is not being used for passenger luggage – a common practice used by passenger airlines, who additionally transport cargo on scheduled passenger flights. – this practice is known as Belly Cargo. Cargo can also be transported in the passenger cabin as hand-carry by an "on-board courier".
Cargo aircraft are dedicated to the job – they carry freight on the main deck and in the belly by means of nose-loading or side loading.
Combi aircraft carry cargo on the main deck behind the passengers' area with side loading and in the belly.
Early years
The first cargo flight took place on 7 November 1910 in the USA, between Dayton and Columbus, Ohio. Philip Orin Parmelee piloted a Wright Model B airplane 65 miles (105 km) carrying a package of 200 pounds of silk for the opening of a store.
Newspaper clippings quoted the Wright brothers as stating he covered the distance in 66 minutes. But the flight was officially recorded at 57 minutes, a world speed record at the time.
It was the first "cargo only" flight solely for the transport of goods; the first flight commissioned by a client. And the first example of multimodal air transport, since the pieces of silk were transported by car from Columbus aerodrome to the store.
The world's first official airmail flight
The world's first official airmail flight took place on 18 February 1911, At a large exhibition in the United Provinces of Agra and Oudh, British India.
The organizer of the aviation display, Sir Walter Windham, was able to secure permission from the postmaster general in India.
This first airmail flight was piloted by Henri Pequet, who flew 6,500 letters a distance of 13 km (8.1 mi), from Allahabad to Naini – the nearest station on the Bombay-Calcutta line to the exhibition.
The aircraft used was a Humber-Sommer biplane with about fifty horsepower (37 kW), and it made the journey in thirteen minutes.
The world's first scheduled airmail post service took place in the United Kingdom between the London suburb of Hendon, and the Postmaster General's office in Windsor, Berkshire, on September 9, 1911.
The service ran for just under a month, transporting 35 bags of mail in 16 flights.
In the early 20s, air cargo developed rapidly because numerous entrepreneurs realized aircraft could move high value. And low volume consignments are much faster than the railroads and shipping companies.
The first scheduled flight from London to Paris in 1919 had only one passenger. But carried leather for a shoe manufacturer and grouse for a restaurant.
Types of Air Cargo
There are two types of air cargo – general and special cargo.
General cargo
General cargo includes high-value goods, such as electronics, jewelry, and pharmaceuticals.
Air shipping is more expensive than shipping by sea, but due to the high margins and the fact that many electronic goods are fragile, air freight is the most appropriate form of transport.
Special cargo
Special cargo requires special conditions for transporting goods, such as temperature control, certain air conditions, or protected casing (e.g. if the goods are hazardous or livestock).
What are the advantages of Air Cargo?
Transporting goods with air freight saves time – it's much faster than shipping, rail, or road transport.
Flights generally have reliable arrival and departure times with very few delays, so the shipment of cargo by air is very likely to arrive on time.
Due to the shipment duration being so short, insurance premiums on air freight are generally lower.
The shipment of cargo by air is tightly managed by security, so the chance of cargo being stolen or damaged is low.
Less warehousing requirements:
The clearance time for air freight is fast, and there's generally less stock to unload than that for cargo ships, so customs clearance is fast, and the need for local warehousing is much lower.
Factors That Will Influence Your Shipment Choice:
Weighing up the pros and cons is a crucial part of any decision-making process and can help you make the right choice.
The following points are important factors to consider whenever undertaking an international shipment.
When goods are transported via air, rates are charged according to the package's volume and weight.
Other factors such as the distance between your location and the destination and the package's urgency will affect the ultimate cost.
Shipping goods by air is more expensive than other forms of transportation, so if time isn't an enormous factor for you and you want to save money, shipping by air may not be a budget-friendly choice.
If there's no shipping rush, then another form of transportation may suit you just as well as air freight.
It can take weeks for your goods to successfully reach their destination via sea freight when air freight could deliver the same goods in hours or days.
Cargo planes and other forms of aircraft have limited space and impose size and weight limits on the goods they carry.
If you're sending a small package, this shouldn't amount to much chargeable weight, but it can derail larger shipments.
What you want to send will also influence how it can be sent. Air cargo won't transport specific items such as flammables, gases, or biological waste.
Airports and airlines rigorously follow these guidelines, so you must follow the rules. Plus, your goods will need to pass through a customs clearance process, whether sent by air or sea.