THE GOOD, THE BAD & THE BEAUTIFUL
The flight attendant industry has undergone a raft of changes in its history, from a dizzying array of uniforms to an evolution of the exact specifications applicants must meet.
While traditionally considered a role for women, the first flight attendants were all male before the first "stewardess" was hired by America's United Airlines in 1930, and soon female flight attendants, or "air hostesses", became the norm.
A 1936 New York Times article described the ideal air hostess as "petite; weight 100 to 118 pounds; height 5 feet to 5 feet 4 inches; age 20 to 26 years. Add to that the rigid physical examination each must undergo four times every year, and you are assured of the bloom that goes with perfect health."
Three decades later, in 1966, a New York Times classified ad for stewardesses at Eastern Airlines listed these requirements: "A high school graduate, single (widows and divorcees with no children considered), 20 years of age (girls 19 1/2 may apply for future consideration). 5'2″ but no more than 5'9″, weight 105 to 135 in proportion to height and have at least 20/40 vision without glasses."
While height, weight, and age restrictions have remained today, varying slightly according to the airline. Stricter physical attributes, from your teeth and hair to arms reach and ability to swim. As well as mental health and specific additional training, have joined the industry's evolving list of cabin crew requisites.
Here we highlight some of the unusual, detailed flight attendants requirements for airlines around the world.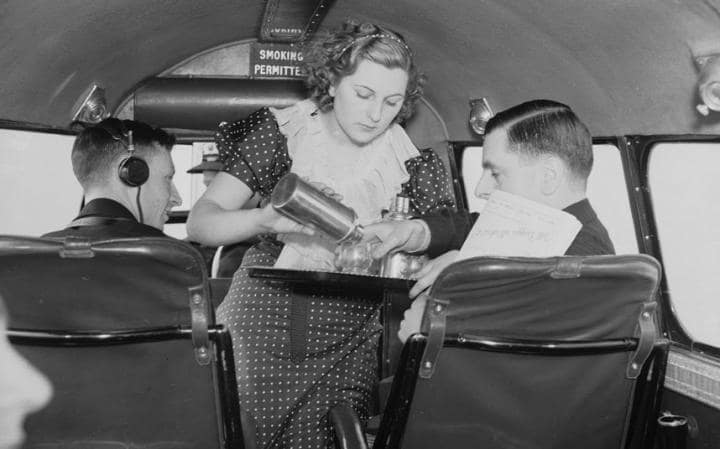 HEIGHT AND ARM REACH FOR FLIGHT ATTENDANT CANDIDATES
Most airlines require flight attendants to be between 5'2 and 6'2 in height (without shoes), and sometimes slightly taller for male flight attendants.
Some require a specific "arms reach" height, such as with Etihad which says cabin crew must be "able to reach 210cm without shoes", while Emirates flight attendants must have an "arms reach of 212cm while standing on tiptoes".
British Airways (BA) detailed "functionality" requirement says its flight attendants must have a "vertical functional reach of at least 2.01 meters (6 feet 7 inches), i.e. when you are standing with your feet flat against the floor, the fist on your dominant arm—when fully extended— is at least 6 feet 7 inches above the ground"
Air New Zealand says all of its cabin crew applicants "must be able to lift a 10kg weight to a height of 170cm without shoes and with both feet flat on the floor".
WEIGHT AND BODY MASS INDEX (BMI)
Airlines generally require flight attendants to be "in proportion to your height". What might be considered a "healthy weight" may be determined by your body mass index, as seems to be the case with Czech Airlines.
"BMI is used to calculate weight – one's body weight in kilograms is divided by the square of one's body height in meters. BMI = body weight (kg) divided by the square of height (m). A BMI = 19-24.9 is considered satisfactory", the airline states.
Last year, Air India warned 600 of its 3,500 crew to lose weight within six months or risk being taken off flights. The airline announced plans to remove nearly 130 workers from cabin crew duty because their BMI levels remain above the prescribed limit.
The airline said that the "normal" BMI for an air hostess is between 18 and 22, "overweight" between 22 and 27, and "obese" for a value above 27. For male attendants, the brackets were 18 to 25, 25 to 30, and above. The NHS says a "healthy" BMI is between 18.5 and 24.9.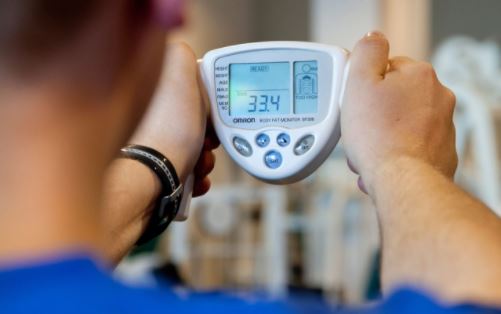 NOSTRIL HAIRS, TEETH, AND OTHER PHYSICAL FEATURES
Several airlines are reported to have specific guidelines for the physical appearance of their cabin crew, such as American Airlines which is said to advise that: "Noticeable hair in nostrils and in/on ears or underarms must be cut or otherwise removed".
Good teeth and oral hygiene also make the list of flight attendant requirements for American Airlines, which says: "Teeth should present a clean, natural appearance. Employees must have a full-frontal complement of teeth.
Dental retainers must be gum toned or clear. Braces should be clear or silver." Las Vegas-based Allegiant Air says: "Good oral hygiene should be practiced to ensure that the teeth present a clean, natural appearance. Breath sprays and mints are encouraged."
Hawaiian Airlines is reported to advise that: "Hands and nails should be kept well-groomed at all times, with nail length not exceeding an eighth of an inch beyond the fingertip". While United Airlines outlines that fingernails  "may be no longer than ½ inch measured from the fingertip and should be even in length and shape".
United Airlines also takes a strong stance on facial hair on men, saying " trendy facial hairstyles are not permitted (e.g., a small patch of hair growing below the lower lip)" for men and "mustaches may not extend more than ¼ inch below the sides of the mouth", while Jet Airways is said to require "a clear complexion (scars, pimples, and blemishes not acceptable)".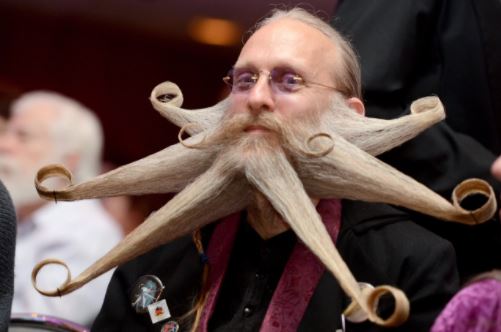 TATTOOS AND PIERCINGS
Most airlines do not allow any tattoos or piercings visible when the cabin crew is wearing their uniforms and most, such as BA, Emirates, and Etihad, do not allow any visible tattoos to be covered with cosmetics, plasters, or even jewelry.
As cabin crew is expected to have "excellent personal presentation, style and image", according to Etihad's requirements.
"As all our uniform shirts are white, you will be required to wear an appropriate white undergarment if you have a tattoo on your upper body in the blue area so that your tattoo is in no way visible through the uniform shirt", BA states.
"Tattoos on the feet are not permitted, as they cannot be concealed. All shoes must be of the classic court style, which leaves the top and side of the foot exposed. The maximum permitted hosiery density is 15 denier and does not cover up tattoos.
"You will be required to remove any items from your tongue for training and duty. Tattoos are not permitted on wrists. Watches must be of a discreet design with either a small silver or gold metal bracelet or brown/black leather strap" the airline said.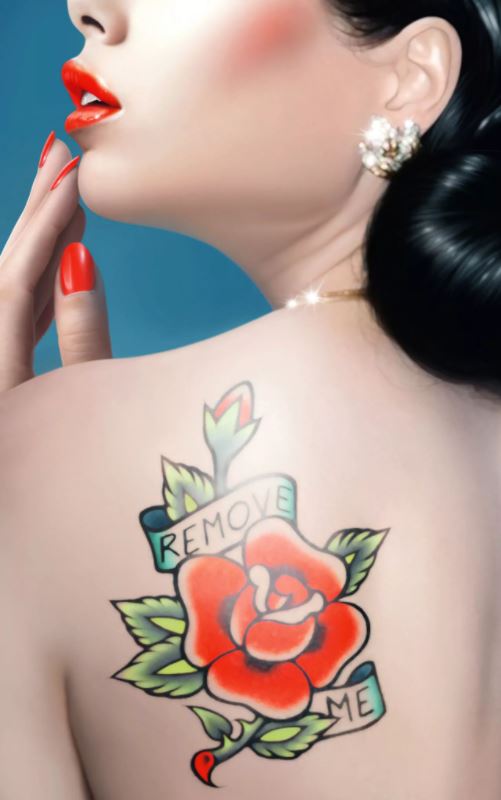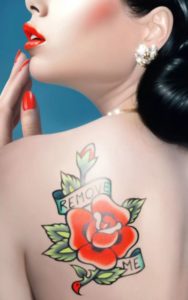 HAIR AND MAKEUP
Airlines generally require flight attendants to have a "groomed look that meets conventional standard", as BA describes.
For women, you will need to have a styled look with hair and makeup that would be appropriate in a professional environment and complements our uniform.
For men, your hair must meet a conventional style that is appropriate for a professional environment. Shaven or sculptured styles and long hair are not permitted. Dyed hair must be of natural color for both men and women."
American Airlines believes "hairstyles may not be more than three inches in fullness and may not wave or curl outward to extreme volume" while Hawaiian Airlines believes "unacceptable hairstyles include, but are not limited to, extreme or unnatural colors (e.g., pink, purple), top-knots, dreadlocks, cornrows, and Mohawks."
As for makeup, "male flight attendants may not wear make-up" on United Airlines flights, while "Lipstick or gloss are required and should complement the facial features. Lip liner should be used in moderation" by Allegiant Air flight attendants.
"Makeup should be freshened as necessary, but never in view of the customer" American Airlines believes.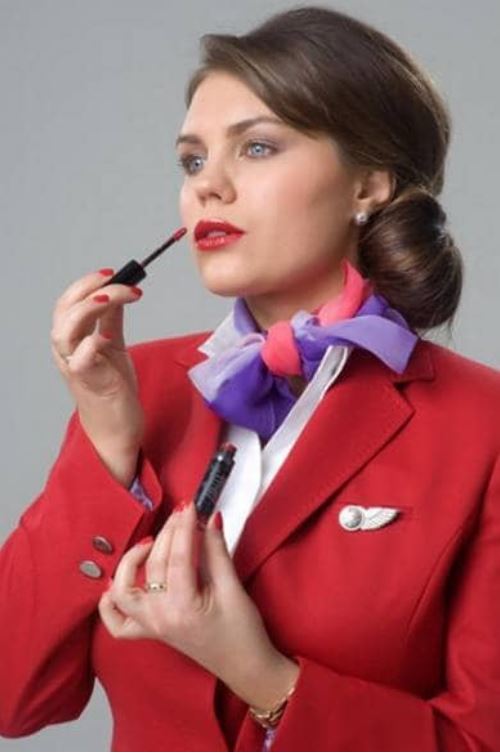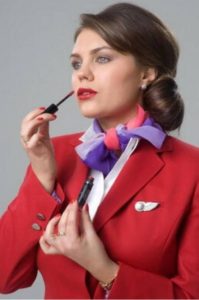 FLIGHT ATTENDANT UNIFORMS
Guidelines around airline uniforms, which have a varied history, are also provided with specific details by some airlines such as United Airlines. Which says the "length [of skirt] may not exceed 1 inch above or 1 inch below the crease of the back of the knee".
US budget carrier JetBlue tells cabin crew not to "tie your sweater around your waist; it can be worn around your shoulders" and "don't wear accessories that clash with your uniform".
"Hoop earrings are permitted and may be no larger than 1½ inches in diameter and/or ½ inch wide on the surface" for Hawaiian Airlines cabin crew and United Airlines is reported to allow "a total of four rings" to be worn, with "no more than two on each hand" by each flight attendant.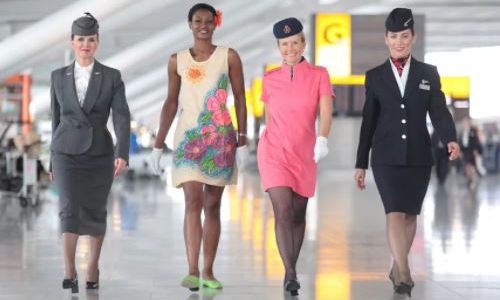 PHYSICAL STRENGTH AND HEALTH
Flight attendants with Canada's WestJet "must successfully pass a functional assessment and must be able to lift 50 pounds from floor to waist and 22 pounds overhead".
Air New Zealand believes "good health is essential and if you progress through the selection process, you will be required to undertake a medical examination". While Etihad warns all flight attendants must be "willing to comply with UAE and GCAA visa, medical and health screening requirements".
Alaska Airlines is also said to " require applicants to be free of all nicotine use for at least 6 months prior to submitting an application."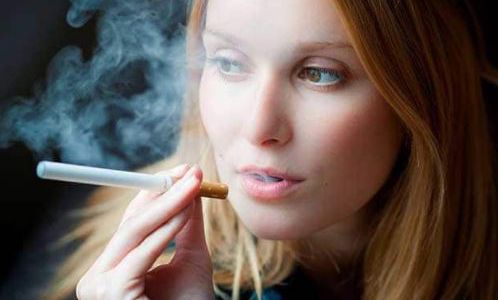 SWIMMING SKILLS
Flight attendants for different airlines must be able to swim at least around 20 meters (ie Ryanair).
EasyJet's cabin crew must be able to swim 25 meters without any assistance and tread water for at least a minute.
Etihad says applicants must be "confident in the water and be able to swim with the aid of a flotation device".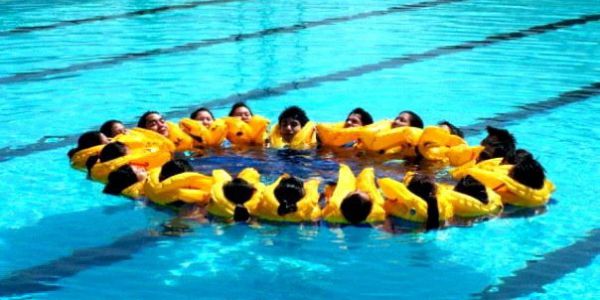 MARITAL STATUS
Jet Airways is reported to require an unmarried status as only a standard for "inexperienced" crew; people applying as "experienced" cabin crew are said to be allowed to be married.
Last September, Qatar Airways relaxed its controversial policies which saw cabin crew sacked if they became pregnant or got married within the first five years of employment.
The restrictions, which had been condemned by UN agency the International Labour Organization (ILO), had been phased out "over the past six months", a spokeswoman for the company told AFP at the time.
Under the new regulations, women who become pregnant are now offered temporary ground jobs and staff can also get married after notifying the company.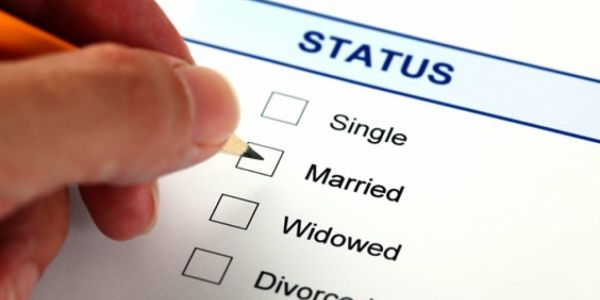 FLIGHT ATTENDANT AGE
While all UK-based airlines are not allowed to set age restrictions on their employees following the age discrimination act of 2006. All international airlines tend to have a minimum age requirement between 18-21 years for their flight attendants.
The majority of international airlines are to welcome applications for flight attendants up to around 56 years of age.
Last year, a 59-year-old grandmother of 11 who took up her dream job as a flight attendant just shy of her 60th birthday was among the stars of a documentary about Virgin Atlantic. Katrine Haynes from Eastbourne was one of more than 2,000 people who applied for the role in just 48 hours.