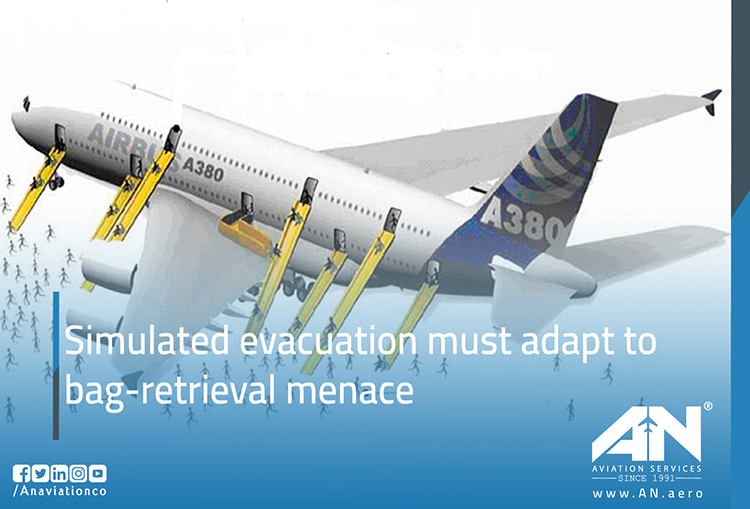 UK investigators believe that simulated evacuation for aircraft certification is inadequate, and Adapt the certificate to provide a more realistic model of passenger behavior, particularly regarding retrieval of cabin baggage.
Obstruction of evacuation routes by passengers' stopping to collect personal belongings has long been a concern of safety regulators and remains a problem despite the European Union Aviation Safety Agency's relatively recent updating of cabin crew safety-briefing procedures.
The recommendation for a more authentic simulation follows the inquiry into an unnecessary evacuation from a Lauda Airbus A320, after an aborted take-off, at London Stansted last year.
"Many passengers in this evacuation collected their bags and attempted to leave the aircraft with them," says the UK Air Accidents Investigation Branch.
Cabin crew stationed at exit doors removed baggage from passengers as they left, but were then forced to store it in limited space. The first officer, who went into the empty cabin after the evacuation, observed "a lot of baggage" near the exits, the inquiry says.
Passengers with baggage using the overwing exits, which cabin crew not supervised, could leave the aircraft unchallenged.
Numerous passengers told the inquiry that passengers impeded the aisle and overwing exits trying to take luggage from under seats and overhead bins. "As a result, some shouted at passengers to leave their baggage behind," it adds.
In the evacuation, after an engine failure, the pilots did not give orders, but by a senior cabin crew member in confusing circumstances.
Investigators found the evacuation to have been unnecessary but could not determine how long it had taken.
EASA certification requires the demonstration that evacuating an aircraft in the 90s. But while certain conditions are specified for such demonstrations, including the placement of minor obstructions, there is no requirement for the simulated passengers to retrieve their own baggage and attempt to leave with it.
This is despite commercial trends, such as hold baggage charges, which are increasing the number of carry-on items in the cabin.
"[Prior events show] it is extremely common for passengers to carry off bags in evacuations, even when there is a clear and immediate threat to life from remaining on board the aircraft," says the inquiry.
"One of the events [previously studied] shows that even trained flight crew are not immune from the compulsion to keep their possessions with them."
The desire to retain high-value items – such as cash, keys, or medicines – is the main reason given by passengers questioned as to why they attempt to retrieve bags. Lauda had been compliant with the revised EASA guidance, published in March 2017, which put greater emphasis on instructing passengers to leave their baggage behind.
"The motivation for passengers to remain united with their baggage is extremely powerful," says the inquiry, adding that new safety-briefing deterrence is still ineffective. "In some cases, the danger is not immediately apparent to passengers."
Alongside the recommendation for more realistic simulation, the Lauda A320 inquiry says EASA should commission research to determine how to prevent passengers from obstructing evacuations by retrieving carry-on baggage.