Owning a private jet is considered the ultimate luxury, but, of course, to do so you need deep pockets. Fortunately for these five owners, money is no object.
Although all these fantastic aircraft are owned by multi-billionaires, we offer a wide range of aircraft – from private jets to helicopters – with interiors every bit as luxurious as these extravagant planes.
Whether for vacation or business, air freight, or medevac services, we can supply the aircraft to meet your exact specifications.
Roman Abramovich's Boeing 767-33A ER – 170 million USD
The fifth on the list is Russian businessman Roman Abramovich, his Boeing 767-33A ER has a price tag of 170 million USD.
This plane would be capable of transporting the whole Chelsea football team comfortably as it has a dining area suitable for 30 people and is fitted out in chestnut with gold decoration. The custom aircraft is even fitted with an anti-missile system.
The Boeing 767-33A ER has a maximum speed of 850 km/h and a maximum flight range of 11,090 kilometers, enough to fly from London to Singapore non-stop.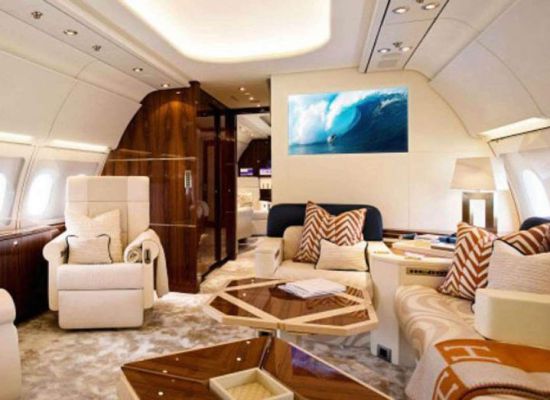 The Sultan of Brunei's Boeing 747-430 – 323 million USD
It comes as no surprise that the Sultan of Brunei, one of the world's richest men, makes the list. His custom Boeing 747-300 cost a cool 323 million USD, including a reported 100 million USD worth of luxury features to meet the sovereign's requirements like washbasins made from solid gold.
The jet Lalique crystal and gold interior is a true flying palace.
The aircraft has a cruising speed of 1000 km/h and a flight range of 14,000 kilometers, ideal for state trips to Europe and the Americas. The Sultan often pilots his fleet of planes which also includes an Airbus 340 and six small jets.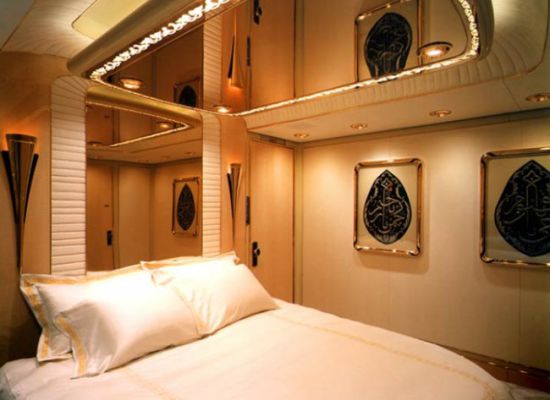 Joseph Lau's Boeing 747-8 VIP – 367 million USD
Hong Kong real-estate tycoon, Joseph Lau is the owner of this 367 million USD colossus. The Boeing 747-8 has a 445 square meter interior and two levels connected by a spiral staircase.
Boeing's price tag for the 747-8 VIP was 153 million USD, with Lau adding another 214 million USD of customizations, including several guest rooms, a bar, a gym, and an office large enough for board meetings.
The jumbo jet can reach speeds of 1195 km/h and has a maximum range of 17,020 kilometers, the equivalent of traveling from London to Sydney and the longest range of any private jet on this list.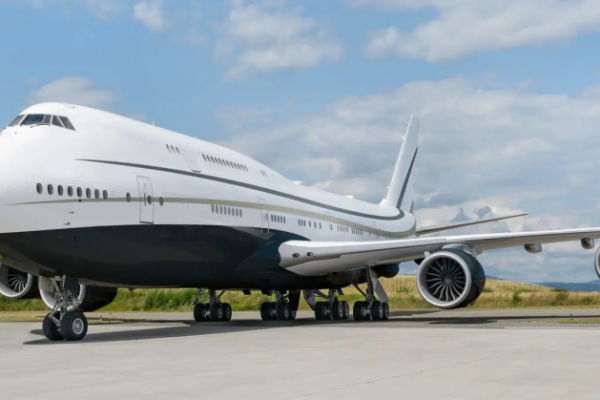 Alisher Usmanov's Airbus A340-300 – 400 million USD
Oligarch Alisher Usmanov, one of Russia's richest men, owns the 400 million USD Airbus A340-300; Russia's largest private jet, bigger than President Vladimir Putin's personal aircraft.
The cost of the aircraft was 230 million USD, with Usmanov spending an extra 170 million USD on a lavish interior including an exquisite dining room along with luxuriant chairs in leather, several seating areas, bathrooms, and sleeping quarters.
The A340-300 has a maximum speed of 915 km/h and a range of 13,699 kilometers, about the distance of flying from Moscow to Tokyo.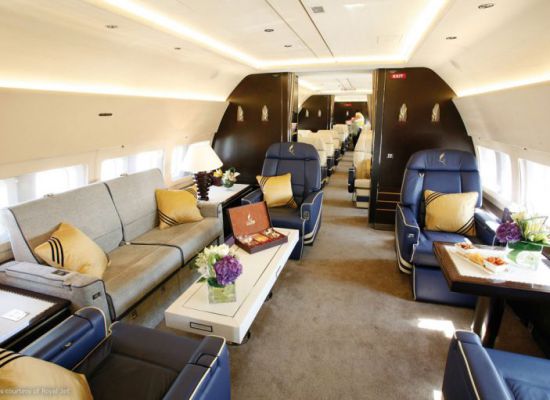 Saudi Prince Alwaleed bin Talal's Airbus A380 – 502 million USD
The world's most expensive private jet belongs to Prince Alwaleed bin Talal of Saudi Arabia who owns an Airbus A380 with a price tag of over 500 million USD.
The 550 meter-squared aircraft has been lavishly furnished to accommodate its own concert hall, Turkish bath, garage space, and even a stable for transporting horses and camels.
Not forgetting the Prince's exquisite throne and a prayer room that rotates to face Mecca from any direction. The A380 has a maximum speed of 1,050 km/r and a flight range of 15,700 kilometers, enough to fly from Riyadh to New York non-stop.