Next-Generation Evolution Seat from Collins Aerospace Offers Increased Cabin Room, Comfort for Business Aviation Passengers. The new offering builds upon the industry-leading success of the first generation Evolution seat with increased living space and comfort.
EVOLUTION SEAT
At this year's EBACE, Collins Aerospace Systems, a unit of United Technologies Corp. Will launch its next-generation Evolution seat, which seamlessly combines commercial first-class seating with executive aircraft seating.
The new offering builds upon the industry-leading success of the first generation Evolution seat with increased living space and comfort.
"Evolution is unmatched in its ability to scale from a business class seat to a super first-class seat," said Ian Webb, vice president of Sales and Marketing for Seating at Collins Aerospace (on-site at EBACE).
"This foundation coupled with ease of maintenance and reliability testing makes for one of the highest quality business jet seats on the market."
Evolution provides greater room inside the cabin due to its unique recline design allowing for close-to-bulkhead installations. A traditional seat must be floor tracked or seat-base tracked and reclines in two motions.
While evolution reclines in one continuous motion. The seat has a compact pedestal base that allows designers the ability to achieve the appearance of a floating seat.
And it operates on a proprietary triple roller system for a smooth transition between seat positions with minimal effort. It also has an extended leg rest to accommodate a range of occupant sizes.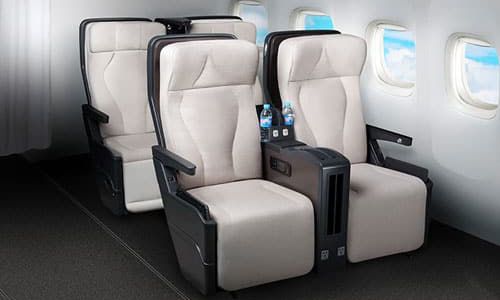 First next-gen economy seat
With its newest seat Elemento, Italian seat maker Geven is marking two firsts: the first of what it calls the "next generation" of its aircraft seating family, and the first seat produced in partnership with London-based design house PriestmanGoode.
Elemento is aimed at the more fully-featured end of the market, with Geven citing "a host of features aimed at increasing passenger experience and comfort" alongside a modular design that "allows for easier installation and integration of the most varied latest generation monitors and PED holders as well as ease of integration into both wide- and narrow-body aircraft".
Those features include the options to integrate today's larger inflight entertainment system monitors, seatback holders for personal electronic devices, integrated table lighting, an adjustable privacy headrest, and a cocktail table, as well as a mesh water bottle holder between the knees attached to the seatback pocket.
The name is a successor to the existing Elemento seat dating back some five years, and the seat marks an evolution of Geven's seat family, with its low-cost carrier Essenza seat — seen from European ultra-low-cost carrier Wizz Air to the Lufthansa Group's standard short-haul product — perhaps the best known of what is now the previous generation.
Elemento is shown with a variety of options for airlines to choose from, including either a single-fold or bi-fold table, with the bifold option seemingly enabling the choice of the PED holder and cup holder which unfold via a flip-down movement from their location under the IFE monitor and above the table.
A number of headrest options are available, including a striking large individual wraparound side headrest shroud reminiscent both of those in newer premium economy seats and of the single-side shroud Etihad débuted on its A380 and 787 seats in 2014.
This is not only super for longer haul flying — avoiding the situation where a snoozing passenger's head flops onto their neighbor's shoulder — but also adds privacy and, dare we say, reduces the cheek-by-jowl feeling that may be surprising to many travelers in the COVID-19 context.
Striking also is the amount of cushioning provided, both at seat pan level and in the lower back and lumbar areas of the seat. Even in the fully-featured economy seat segment, this is an unusual amount of padding.
Rotation
The design language for Geven's next-generation seat family is also revealed in Elemento, with sculpted, organic curves in the seatback and headrest matched by a firm set of angles in the armrest.
Geven is also boosting the focus on its color, materials, and finish, showcasing premium-feel dress covers and an elegant (if grey-and-blue) palette that was "inspired by the Geven brand colors and the Italian coastline at sunset".
Geven's recently introduced v-tick logo element also makes several appearances, whether on the armrest pivot, the headrest, or as part of the pattern on the seat fabric mesh.
Airlines, of course, will make their own branding choices from headrests to seat pans, but it's always interesting to see what signals a seat maker is making about the market segmentation of its product with CMF.