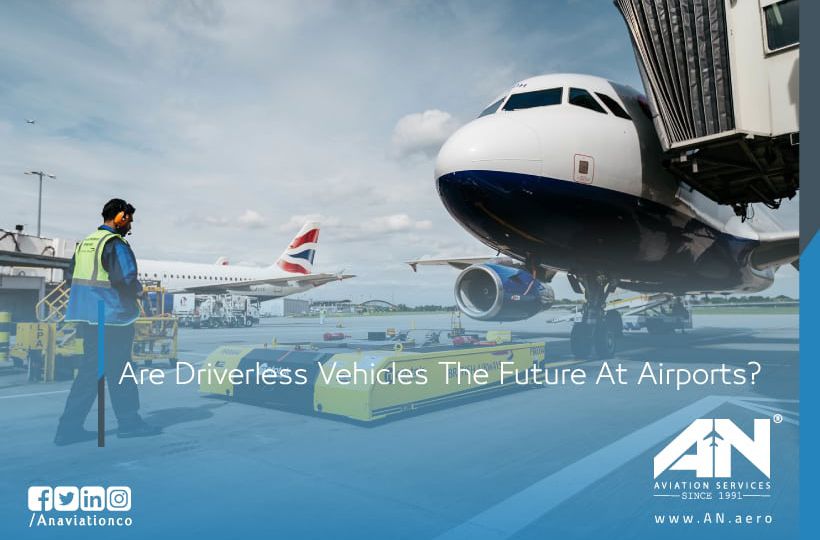 The need to use electric vehicles is becoming more and more apparent. Today, airports need to be connected to cities and regions by different modes of transport to compete successfully and grow their business.
As more and more passengers travel to and from the airport, roads become more congested and car parking spaces are rarer and more expensive. Concerns about road congestion and more difficulty finding parking space for a car significantly increase the level of stress for passengers.
Electric and autonomous vehicles could offer an additional service to fill the gaps in the market for current mobility solutions and make airport transport more efficient and environmentally friendly.
In an age where everything from ground handling, and baggage systems to check-in desks is becoming automated. What might come next? it's like the answer could be driverless vehicles to drive aircraft on the runways.
British Airways is already using driverless Vehicles to push their aircraft back. However, totally automated airport vehicles might be on the horizon before long. Heathrow's Terminal five uses driverless pods to shuttle guests to a car park. A French company known as Navya is looking at automating everything from snow plows to buses.
The big question is, however, are airports ready for this new technology?
changing of airports
Robotics
Airports such as Haneda, Incheon, Auckland, and Changi are exploring the use of robots to provide on-the-spot assistance to passengers, or as part of terminal cleaning functions.
Self-driving vehicles
Christchurch, Heathrow, Gatwick, and Cincinnati/Northern Kentucky are all examples of airports that are trialing self-driving vehicles, either outside the terminal building or airside; transporting staff and passengers with reduced mobility.
Airport parking
Autonomous vehicles can help maximize the use of parking spaces, as demonstrated by Lyon Airport, Paris Charles-de-Gaulle, and Dusseldorf Airport.
Airside operations
Among the many examples, airports such as Edmonton, Oslo, Winnipeg, and Heathrow are testing or deploying driverless perimeter patrol vehicles, snowplows, or foreign object debris (FOD) radars.
The Positives of Driverless Vehicles
By automating the vehicle process, airlines could drastically cut delays. British Airways has seen delays drop by around fifty-three since driverless Vehicles entered service.
In addition, if airports are fully automated, accidents can be cut too. Airports have relatively low-speed limits. However, if they became fully automated, every vehicle would know where the other was.
Additionally, it might be a lot easier for airports to program their complete road network into software than it would be to fully program the world's road network. this suggests that instead of having to completely rely on GPS, the vehicle could be aware of its position on the airfield in real-time.
The Negatives of Driverless Vehicles
All pros have their cons, and there are a couple related to automated vehicles. the first is safety in an aviation environment. moving around aircraft might cause a safety hazard for the vehicles and aircraft. additionally, there's the problem of how vehicles would cross taxiways.
Of course, there's the option for ATC to "open" taxiways to vehicles. Another way would be to track all aircraft in real-time. However, the system would need to be ground-based, as it would be near impossible to retrofit every aircraft.
Finally, such systems would need watertight security protocols. simply imagine the chaos if a vehicle was somehow driven onto a runway deliberately or otherwise.
Why airports are turning to automation?
There are a variety of reasons airports have to increase the level of automation as they seek solutions to problems they face. AVs can be used to improve efficiency, strengthen security and help increase safety in airside areas.
Efficiency
Given the complexity of a modern airport, AVs offer an opportunity to increase efficiency while allowing for stronger security and a lower margin for error if implemented correctly.
Therefore, while in some contexts, airport AVs are an operational 'nice to have, they are likely to become a necessity. Each application serves a different purpose.
Security
Autonomous machines can offer a useful layer of security to an already robust security program. Many are intrigued by the capabilities that advanced technologies can bring in identifying vulnerabilities around airfield perimeters or in crowded public areas.
Autonomous machines may never be the sole security solution for any airport, but it does fit in nicely with the layered approach that airports use to maintain secure facilities for passengers and aircraft.
Conversely, the use of AVs may introduce new vulnerabilities, especially concerning cyber-security. A separate ACI Report with a specific focus on AVs' potential security threats and risks for airports was elaborated in partnership with ARUP and is also available on the ACI Store.
Safety
AVs have the potential to save millions of dollars that are lost by damage done to aircraft and other assets airside. Modifications to ground service equipment (GSE) are being explored by manufacturers, airports, and airlines.
Which pilot projects are being run today?
| | | | |
| --- | --- | --- | --- |
| Project | Location | Participants | Technology |
| ASPIRE | Indiana & Utah, EE.UU. | INDOT,  Magment, Electreon | Inductive |
| eConcrete | Alemania | Strabag, Magment | Inductive |
| Arena del Futuro | A35, Italia | Stellantis, Iveco, Iveco Bus, ABB, Prysmian Group, Electreon, and other public and private organizations in Italy | Inductive |
| Smart Road Gotland | Gotland, Suecia | Electron AB and other public and private organizations | Inductive |
| eRoad Arlanda | Arlanda, Suecia | NCC, Elways (EVIAS), ABT Bolagen and Kilenkrysset | Conductive |
| Evolution Road | Lund, Suecia | Elonroad AB, Lund municipality, Lund University, and Solaris Sverige AB. | Conductive |
Summary
All in all, despite the drawbacks, having automated aircraft at an airport would possibly be a positive change. All of the negative mentioned would probably be addressed during the development phase. Indeed, it would take at least 5 to 10 years to roll out such a system at airports. it would likely begin with low-risk vehicles and work its way up.
Given the success of various driverless trials at airports, it appears to be more a question of when airports will gain driverless vehicles. this is as opposed to if airports would get driverless vehicles.