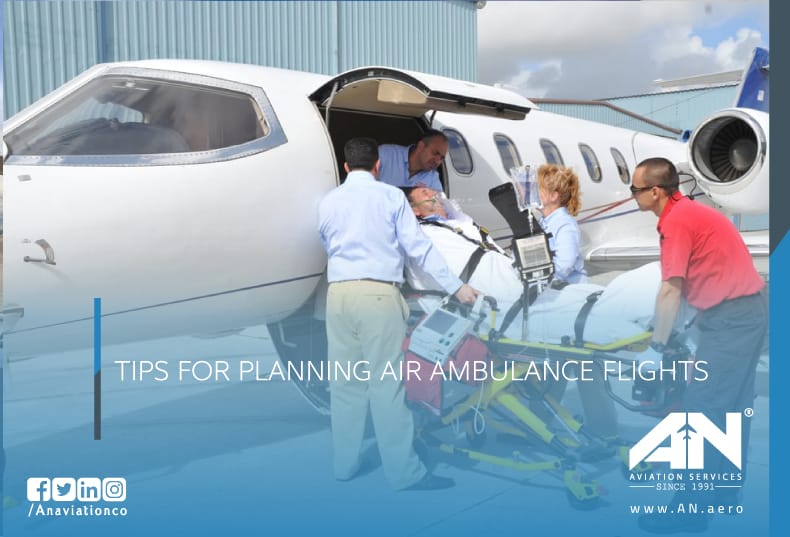 Most air ambulance flights are short-notice charter (non-scheduled commercial) operations. Because of the nature of these flights, civil aviation authorities are usually very cooperative and accommodating in terms of permits and operational needs.
Still, potential operating issues/glitches are possible, and effective trip pre-planning remains just as vital as ever.
Here are some tips to help ambulance flights go smoother
1. Advance Notification Requirements
Depending on the urgency of the flight, landing and overflight permits can sometimes be arranged within a few hours. For instance, serious or unstable medical situations and organ transfers are considered "urgent" requests.
Whereas most ambulance flights permit requests are processed. Anywhere from a couple of hours to a full day, the processing time depends on the country.
For example, China needs twenty-four hours' lead time, and Chinese authorities are rigorous on this. Canada processes air ambulance permits at once. Jamaica forgoes permit requirements for qualified air ambulance flights.
2. Ambulance Flights Permits
For air ambulance permit applications, you'll need to provide aircraft/crew info, in addition to medical-related details. Required documentation sometimes includes airworthiness and registration certificates, worldwide insurance, full crew data, and also the complete schedule.
Additionally, You'll need to provide full patient data along with hospital information from the departure or destination point. And also a local hospital contact, and phone contact for the party picking up/dropping off the patient.
3. Visas may be needed
Depending on the nationality of crew members/passengers, visas could also be required. While some countries permit visa-free access for crew members/patients on an air ambulance flight.
Others enforce the same visa requirements as they do for all general aviation operations. For example, once operating air automobile flights to China, crew members must all have C-type visas before arrival.
4. Planning Tips
operations of ambulance flights may be exempted from noise and/or curfew restrictions, counting on the airport and country the flight is operating.
Over time, to increase airport and/or Customs, Immigration, and Quarantine (CIQ) hours, could also be available for these types of flights, However, advance notice must be provided. Charges will likely be applicable, and approval will be at the discretion of the airport authority.
As air ambulance operations are often on shorter-range aircraft, you'll need to take into account tech stop requirements and local operational problems. Most countries don't need CIQ clearance on international tech stops; but, there are exceptions to this – including Argentina and the U.S.
5. Ground Handling Considerations
Always pre-notify your ground handler if you're operating an air automobile flight. Your ground handler will want relevant patient and hospital data – along with contact details for the doctor responsible. In order to make arrangements and request ambulance access airside.
You'll need to work along with your ground handler to determine if CIQ clearance will be done at the aircraft or in the terminal. Any special ground service requirements – such as the provision of pressurized medical oxygen – should be requested as early as possible to avoid day-of-operation delays.
Always make sure visa requirements and if these visas are obtainable on arrival along with your 3rd-party provider or ground handler.
Conclusion
While it's preferable to provide twenty-four-hour notice for permit requests, CIQ, and ground handling. There are times when operators of ambulance flights may only be able to provide a couple of hours' notice.
The best practice is to provide the full and correct documentation for all permit requests and to make sure that patient data is forwarded as soon as available in order that your 3rd-party provider or ground handler can set up all required arrangements.