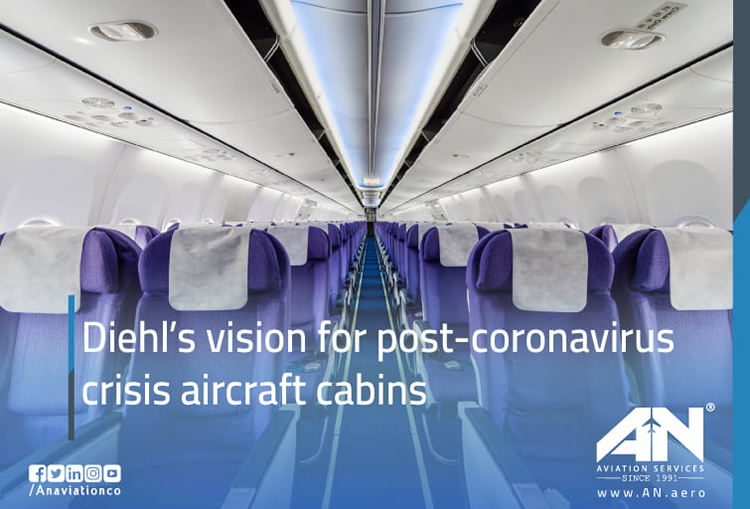 The prospect of having to modify aircraft cabins in order to reduce the infection risk during flights will likely be another headache for cash-strapped airlines battling to survive the coronavirus crisis.
However, Diehl Aviation sees an opportunity to respond to passenger health concerns with new products, and the German systems and interior equipment manufacturer argues, for airlines to differentiate themselves as they vie to attract customers back on board.
Amid the pandemic, Diehl has started developing – or accelerated previous work on – products aimed at improving onboard hygiene, most of them retrofittable. The plan is to make them available later this year or in 2021.
Senior vice-president of product innovation Helge Sachs tells Cirium that the company is developing a UV-C lamp to disinfect lavatory surfaces. The lamp is designed to be fitted to lavatory sidewalls with a telescoping arm for temporary deployment either on the ground during aircraft turnaround or by the crew during long-haul flights.
The lamp will operate with a light frequency that poses a health risk for humans and thus be installed only by staff when required. With a cleaning cycle of up to a minute, the lamp's operation will be automated to ensure that no person is present in the cubicle during exposure. Otherwise, the equipment would be stowed away for use when required.
Additionally, Diehl is working on ways of employing UV light in the cabin – with light frequencies that pose no health risk – to reduce contamination on interior surfaces. One of the options is to install a UV light source in the passenger-service units above the seats to reduce contamination on exposed surfaces such as seat cushions, armrests, fold-down tables, and IFE equipment.
Another option is to emit UV light via the regular LED cabin-lighting system. Sachs says Diehl is working on the required control-software updates.
UV light has been in regular use for water purification in ground-based supply systems for years, and the same principle has been used to provide potable tab water on business and VIP aircraft. Now, Diehl indicates that it is studying the wider use of such equipment on passenger aircraft.
Sachs foresees that the UV light solutions will become available for service in 2021. Meanwhile, the company is offering lower-tech solutions – including disinfectant dispensers, face-mask containers, and cautionary cabin placards – and accelerating the development of retrofittable, touchless controls for lavatories and other passenger service equipment.