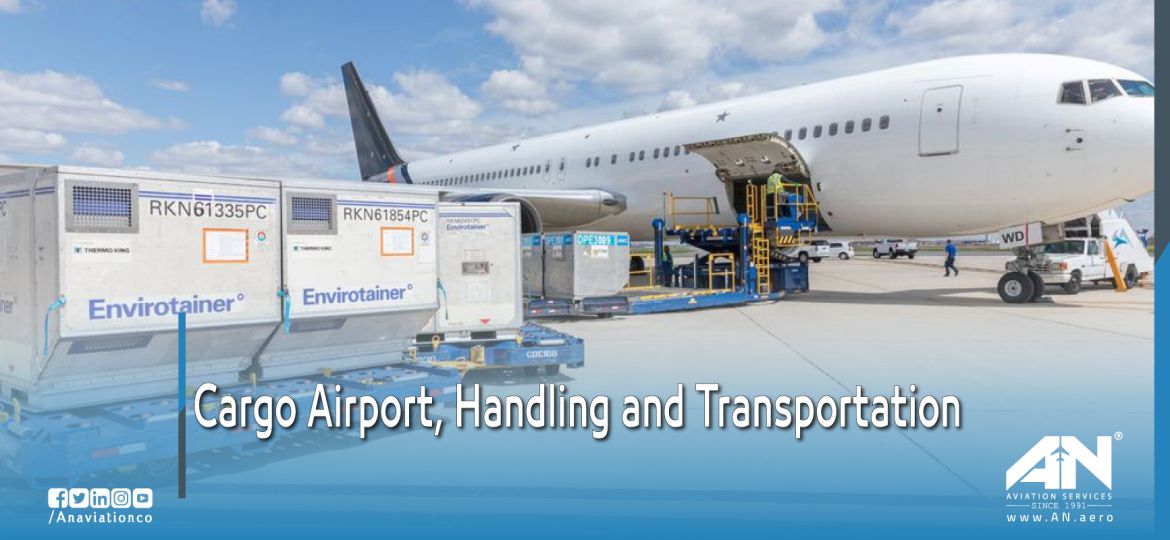 Cargo airport, Air cargo is another term for air freight. It is the carriage or the transportation of goods through an air carrier. Transport services via air are the most valuable when it comes to moving express shipments around the globe, and it consists of air mail, air freight and air express.
Different cargo can be transported by passenger, cargo or combi aircraft
Passenger aircraft:
Passenger aircraft use the spare volume in the airplane's baggage hold (the belly) that is not being used for passenger luggage, commonly used by passenger airlines, who additionally transport cargo on scheduled passenger flights.
Cargo can also be transported in the passenger cabin as hand-carry by an "on-board courier".
Cargo aircraft:
The Cargo aircraft are dedicated for the freight on the main deck and in the belly by means of nose-loading or side loading.
Combi aircraft:
Carry cargo on part of the main deck, before or after a passengers' section, with side loading, and in the belly.
The Role of the Airport in Air cargo Transport
The cargo industry changed significantly over the 25 years of 1988 to 2013. As the world economy has become more global, markets and manufacturing have developed, shifted, and in many instances, relocated to markets with low labor rates.
New logistics and supply-chain concepts based on low fuel costs and labor costs developed along with trends in just-in-time production and final manufacturing assembly at destination.
As new product shelf life decreased, such as for consumer electronics, during this time period, and as the value of goods shipped has increased, the demand for expeditious transport and control, as well as transparency, has correspondingly increased.
Domestic air cargo in the United States also experienced shifts, particularly as fuel costs increased in recent years and integrated express carriers developed deferred delivery business models, reducing the demand for overnight delivery by aircraft and relying increasingly on truck networks.
The air cargo terminal is a critical part in the air cargo supply chain. An inadequately sized air cargo building that is unable to accommodate peak volumes may result in shipment delays, while a cargo warehouse that is not designed with flexibility in mind to meet demand may become obsolete during its service life.
Airports routinely accommodating air cargo operations typically have space dedicated to support this activity. The space is commonly made up of aircraft parking apron, air cargo buildings, and truck parking and maneuvering areas.
Cargo throughput between the land and air mode is either through the warehouse buildings or a through-the-fence security gate. These air cargo installations on airports function as a platform that allows for the interface between land and air modes, with the goal of providing the expeditious processing of cargo.
This platform has a role to play in ensuring that cargo products arrive at their destination on time and intact, that customers have easy access to the cargo facilities for collection and delivery, and that the truck access is relatively uncongested and does not interfere with passenger related traffic.
Cargo storage is an attribute of these facilities, but the duration is to be limited by design. For the cargo carrier, it is most optimal for air cargo to arrive at the precise time for loading onto aircraft, with no on-airport storage or processing time needed.
Since there are typically numerous arrivals on cargo trucks to an air cargo terminal, space for processing, build up, and storage is required. These space requirements vary with carrier type and the size of the airport's air cargo market.
Air Cargo Process
Air freight is transported in dedicated cargo aircraft and in the cargo space of passenger aircraft (belly cargo). Inbound belly cargo is unloaded and transported to cargo facilities or from one aircraft to another aircraft, while outbound belly cargo is transported from trucks to the cargo terminal and loaded onto the aircraft prior to departure.
International cargo arriving as imports may have been pre-cleared electronically or may be subject to additional inspection by regulators before being cleared to leave the airport. As with baggage handling, cargo on narrow-body and smaller aircraft is loaded individually, while cargo on wide-body aircraft is containerized.
Perhaps one of the unique attributes of the air cargo industry is the rapid loading and unloading of commodities onto wide-body and narrow-body freighter aircraft via unit load devices (ULDs), including pallets and igloos.
Cargo aircraft have large doors and rollers fastened to the deck of the aircraft. These aircraft allow containers and pallets laden with freight and mail to be rolled on and off either manually or through a mechanized system.
What Types of Cargo are transported by Air?
When looking at the various types of cargo transported by air, they fall into two main groups: General Cargo and Special Cargo. Special Cargo is then divided up into smaller, specialized subgroups.
What is general cargo?
General cargo are items that do not fall into the Special Cargo categories and that do not require any extra precautions or special handling during air transport.
These types of items are retail and most consumer goods (except mobile phones, tablets and laptops), dry goods, hardware, textiles, and more.
What is special cargo?
Special cargo is where things get a little more complicated. Special cargo are goods that, due to their nature, weight, dimensions and/or value, may have specific requirements including packaging, labelling, documentation and handling through the transport chain.
The transport of these goods are addressed through specific regulations that must be followed when preparing, offering, accepting and handling this cargo. Items include dangerous goods, live animals, perishable cargo, wet cargo, time and temperature sensitive products among others.
To ensure that there are globally harmonized standards that ensure the safe and facilitates of these products, IATA has three Boards: The Dangerous Goods Board (DGB), Time and Temperature Working Group (TTWG), and the Live Animals and Perishables Board (LAPB), which manage the standards and guidance related to the transport of these products.
The cargo handlers
Today we are going to take a look and see which are the busiest cargo-handling airports in Asia, Europe, and North America. While there are airports that are geared more towards handling air freight than passengers, they are not necessarily the largest cargo handlers, as all major international airports have a cargo facility.
The world became much more aware of air freight in 2020 during the COVID-19 pandemic. While countries closed their borders and imposed quarantines, the number of people flying slowed down to a trickle. However, because of the need to transport Personal protective equipment (PPE) and later vaccines, the use of aircraft to transport goods increased rapidly.
Now that the pandemic is over, air freight traffic is still high as consumers prefer to go shopping over the Internet rather than on the high street or at malls. E-commerce is the big driver of air freight these days and shows no signs of decreasing anytime soon.
The largest cargo airports
Not only was Hong Kong International Airport (HKG) the largest cargo airport in Asia, it was also the largest worldwide. In 2021 Hong Kong Airport handled 5,025,495 metric tons of cargo, a 12.5% increase on 2020.
In second place was Shanghai Pudong Airport, with 3,982,616 metric tons in 2021, an 8% increase on 2020.
Coming in third place in Asia was Incheon International Airport (ICN) in South Korea. In 2021 Incheon handled 3,329,292 metric tons of cargo, an increase of 18% on 2020.
The busiest cargo airport
The busiest airport for air freight in Europe was Frankfurt Airport (FRA) in Germany. In 2021 Frankfurt Airport handled 2,274,969 metric tons of cargo, an increase of 18.8% compared to 2020.
In second place was Paris Charles de Gaulle Airport (CDG) in France. In 2021 Charles de Gaulle Airport handled 2,062,433 metric tons of cargo, an increase of 18.1% compared to 2020.
The third place is Amsterdam Airport Schiphol (AMS) in the Netherlands. During 2021 Amsterdam Airport Schiphol handled 1,680,584 metric tons of cargo, an increase of 15.4% compared to 2020.