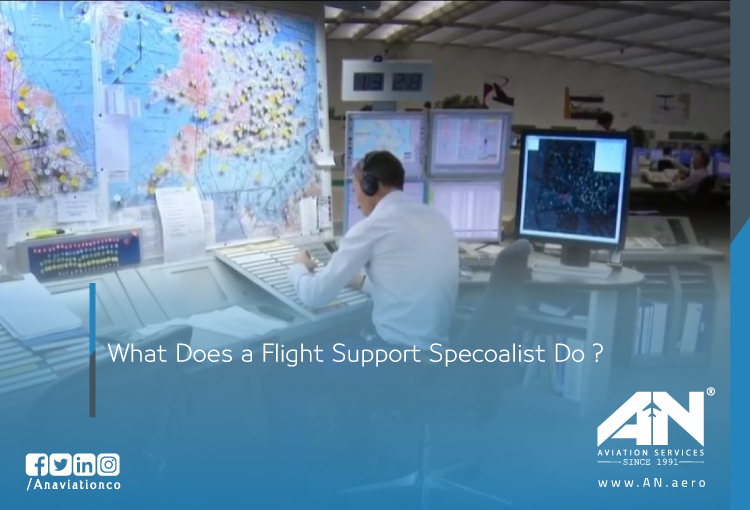 Flight support services: what are they?
The Flight Support Services which are called behind the scene services are related to flight operation, in-flight services handling, permit, fuel, dispatch, weather forecast
The flight Support services are necessary for any aircraft which ensure the flight goes smoothly. Everything from ensuring proper insurance and authorization to flight monitoring and other administrative activities falls within the area of Flight Support Services.
The Flight Support Specialist
They are the individuals that provide support by analyzing data and feeding relevant information and solutions to the dispatchers, taking pilot phone calls, and updating the flight tracking systems for all aircraft reroutes and diversions.
Additionally, the Flight Path Support Specialist is responsible for communicating with end-users and creating numerous daily reports for dispatchers.
Responsibilities of a Flight Support Specialist
Analyzes and filters incoming airport and runway data pertaining to any permanent changes for pilots.
The provision of customer service, which includes guiding and educating clients regarding the details of the flight path.
Performs detailed analysis on items such as runway characteristics and obstacle information, and makes decisions on information priority and relevance in relation to aircraft performance.
Designing flight paths and engine failure procedures and responding to end-user questions about these paths and procedures.
Proactively identifies and reports problems while working to find ways of improving aircraft performance.
Provides weekly rotational on-call support as well as on-call support as necessary.
Support the Operations Control Center (OCC) activities and procedures related to supporting coordination and flight dispatch activities.
Coordinates aircraft schedules according to owner's requirements, crew availability, mechanical requirements, weather, and government regulation.
Responsible for the preparation, coordination, and communication of all applicable flight logistics including such items as trip itineraries, hotel reservations, ground transportation, catering, handling, over-flight permits, runway analyses, FBO and ramp reservations, and others to ensure is within or below budget.
Maintains a continuous follow-up on all trip details and arrangements (internal and external fleet trips). Maintains communications with the crew, aircraft owners, and passengers as necessary regarding the status of trip details.
Maintains charter hour goals and works alongside CLA Charter Sales to ensure yearly goals are met monitoring them monthly.
Submits approval requests to appropriate client representatives, adhering to guidelines and requirements.
Resolves customer requests, questions, and concerns, which frequently require analysis of situations to determine the best use of resources.
AOG mechanical resolution alongside Maintenance Control and Flight Operations.
Review the operational status of the fleet and irregular operation (IROP) recovery as well as threat analysis
Supports team effort through courteous and professional interaction, excellent communication, and a genuine desire to service our clients.
Expected salary for a flight service specialists
The starting salary for a flight support specialist for this position is $30000, with a maximum salary of $53000.
Typical Requirements and/or Experience
Progressively responsible experience in administrative, technical, or other work which demonstrates the potential for learning and performing air traffic control work. A four-year college degree can be substituted for the general experience requirement.
Experience in a military or civilian air traffic facility which demonstrated possession of the knowledge, skills, and abilities required to perform the level of work of the specialization for which application is made.
Persons with a four-year college degree and a test score of 75.1 or higher on the Air Traffic Controller Aptitude Test will be admitted to controller training at the FAA Academy.
Educational and Other Substitutions for Experience:
Successful completion of a four-year college degree may be substituted in full for the experience required.
Passed the written test to qualify for the experience requirements for grade GS-7.
Hold or have held an FAA certificate as a dispatcher for an air carrier.
Certificate and Rating Requirements:
Air traffic control specialists in all specializations are required to possess or obtain a valid Air Traffic Control Specialist Certificate and/or Control Tower Operator Certificate.
These certificates require demonstrating knowledge of basic meteorology, basic air navigation, standard air traffic control and communications procedures, the types and uses of aid to air navigation, and regulations governing air traffic.
In addition, each air traffic control specialist must possess or obtain a rating for the facility to which assigned.
This facility rating requires demonstration of a knowledge of the kind and location of radio aids to air navigation, the terrain, the landmarks, the communications systems and circuits, and the procedures peculiar to the area covered by the facility.
All required certificates and ratings must be obtained, if not already held, within uniformly applicable time limits established by agency management.
If you are looking for a service provider company that can provide you with the best services, contact AN Aviation. Our team consists of highly trained professionals educated and experienced in in-flight support areas such as aircraft monitoring, flight planning, and so on.
With just one phone call, our team will coordinate all necessary services to ensure a safe flight.