SOLAR-POWERED AIRPLANES? SCREENS ON YOUR TRAY TABLE? IN-FLIGHT BOWLING ALLEYS? THE FUTURE OF FLYING LOOKS PRETTY WILD. HERE ARE A FEW IDEAS THAT MAY, OR MAY NOT, TAKE OFF.
There was a day not too long ago when seatback TVs on planes looked space-aged, the concept of a call from 30,000 feet seemed impossible, and the idea of WiFi—let alone on a plane—was completely out of the question.
Today you take those things for granted. You even complain about them if they don't work. As for plane phones. Airline innovation has come a long way—and companies now have a new tech-savvy consumer to please.
Experts are busy figuring out how to do just that. Many—from internationally renowned design firms to NASA scientists—have a hand in trying to turn big ideas into future plans.
So, what's next? Here's what you can expect from the future of air travel—and when it might become a reality.
GOING TOTALLY GREEN
In March, Bertrand Piccard and Andrew Borschberg will attempt the first round-the-world flight with a plane using only solar power. Should they succeed, it'll be the first and biggest step toward removing fossil fuel from the air-travel equation.
That means lower emissions, and likely lower operational costs for the airlines. But commercial companies aren't the only ones looking to green-up air travel.
Look at NASA's N+3 design developments—representing three generations beyond what we see in the skies today. You'll notice almost zero emissions. One of these far-out designs is called the Double Bubble.
Though it would probably move slower than a commercial jet, it could cut emissions by about 70 percent. The Sky Whale—a concept from a Spanish designer that could hold 755 people, take off vertically, and self-repair its own wings—would be even greener.
It wouldn't need to refuel because of its double fuselage and solar concepts on the wings.
New Aircraft Concepts Research, in the European Union, is also working with Airbus on a PRO green Aircraft Concept that will be a design overhaul of more eco-friendly options.
Airbus says this model would use "drop-in fuel" with similar properties as kerosene, possessing high energy density—and enabling lower energy consumption.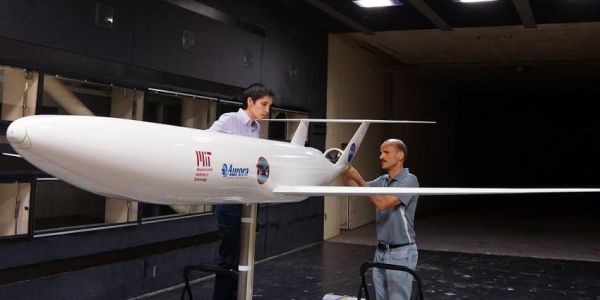 ARMREST DIVISIONS
The Soarigami, a device you can buy and bring with you on a plane, doubles the size of the middle armrest. It's a simple origami-like structure made of neoprene and plastic that both divides that middle armrest and extends its width.
It will go on pre-sale in early 2015 and at just $30, it could become the next Knee Defender. Another armrest solution: the Paperclip Armrest Project. Started in 2014, it aims to end the infamous armrest battle, too.
As a "double-decker" device, there would be an upper and lower level for two arms to rest peacefully. But Lee says "airlines are concerned about cost"—and he's not sure how soon tiered armrests would replace those standards in today's cabins.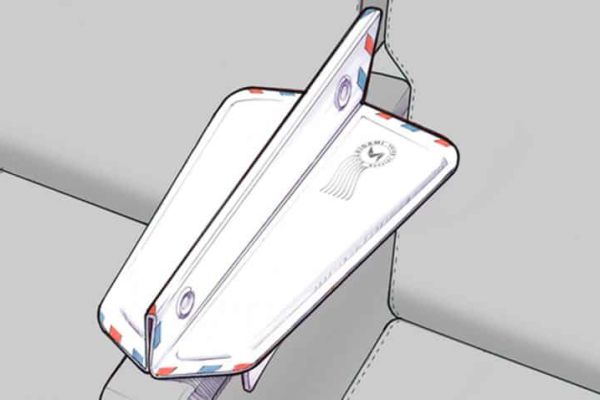 SCREENS, SCREENS, AND MORE SCREENS!
Interactive screens may replace white plastic as cabin walls and even windows, predicts Lawson. "There are various surfaces in the aircraft from the seat tray table to the overhead panels which could be used as smart surfaces to provide interaction and entertainment—or could even be used to charge your phone.
Other surfaces could provide essential passenger information such as safety information and the nearest emergency exit," he says. "The competition is happening in what the interior looks like.
When most people get on a plane they don't know if it's an Airbus or a Boeing. They care what types of seats it has, about the lighting, and the windows," says Mavris. When a French design company recently released a Windowless Jet Concept called IXION, claustrophobics might have rejoiced.
Why? The design includes floor-to-ceiling views of the space the plane is flying through, but instead of looking through glass, flyers see the images on a thin OLED screen wallpapering the entire cabin.
The design concept is just that as of now: a concept. But it's rooted in science. The designer says that the 360-degree views aren't just cool; they'd make the plane lighter due to simpler construction and different materials.
And fuel efficiency is a key driver in the aviation industry—aircraft weight has a significant bearing on fuel consumption, says Lawson. "The future will likely see the use of ever-more lightweight materials and a stripped-back approach."
One UK company, Centre for Process Innovation, that's trying to lighten aircraft by replacing windows for screens claims it can have a prototype ready in a decade.
THE FLYING DONUT
When you walk onto a plane, you're instantly crammed. A single-aisle is your only space for movement. Forget about trying to pass someone—let alone a flight attendant with a cart. Innovators know this, and they're trying to change it.
Everyone is fighting for how to make the interior of the cabin more open, says Mavris.
Can you store luggage on the sides, instead of above seats, so that the middle of the plane will be more open?
Can you change the shape of the aircraft to allow for more space in the middle?
Airbus is seeking a patent for the design concept of the 'Flying Donut' that would be set up like a Lifesaver candy—with more open space and wings that come out straight from the nose of the plane instead of the sides.
"When you go into the cabin, it would be one big auditorium-like setup," says Mavris. It could carry a lot more people, could be more efficient aerodynamically, could use less fuel, and potentially have fewer emissions, but Mavris isn't convinced the airlines will go for it.
There could be problems pressurizing, he says, and it's quite a diversion from the current commercial model.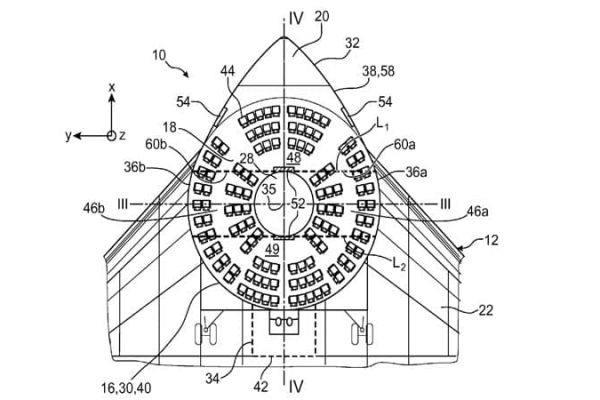 CONVERTIBLE SEATING
James S.H. Lee, director at Paperclip Design Limited and an expert in seating design, hopes his project—the Butterfly seat—will someday be a part of commercial flying.
The Butterfly would allow flight attendants to change a seat from economy to business very quickly in between flights before you board.
Both business class and the economy would still exist, but the ability to make more economy seats on one flight, then more business class seats on another, could be key for the airline.
"I used to work for the airlines—and from a business point of view, flexibility would bring huge benefits both to operations and revenue," Lee says. Every flight has a different demand for first-class and economy.
There are a lot of business-class demands for a flight from London to New York, for example, he says, but on a flight to the Caribbean? Not so much. So seats go wasted. With convertible seating, you would be able to purchase what you want, and the airline could change the seats to make it happen.
Lee says he plans on building prototypes early next year—then seeking development by mid-2017.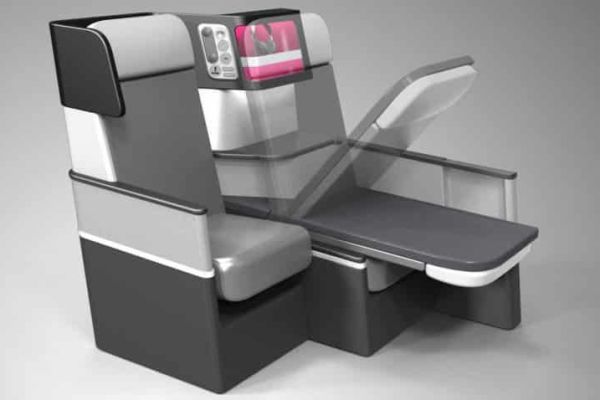 IPADS ON BOARD
Seatback TVs could go the way of the plane phone soon. "There are lots of emerging improvements vis-a-vis general cabin comforts and amenities," says Patrick Smith, an airline pilot, host of the website Ask the Pilot, and author of Cockpit Confidential.
One of the most promising examples: are airlines handing out devices for passengers to use in-flight instead of installing screens on the backs of seats. Hawaiian Airlines, for instance, already offers iPad minis for passengers to use on some of its flight routes.
Other airlines may start urging you to bring your own products on board. Many already provide entertainment at your fingertips once you log in to the airline's WiFi. You can watch TV, movies, and send emails from your own device.
Forget paying for WiFi, too. Airlines can provide free Internet and streaming for far less than the cost of fixing clunky TV monitors—and fielding complaints.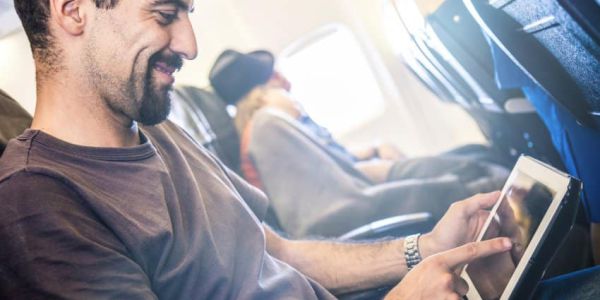 TAKING FIRST-CLASS TO A WHOLE NEW LEVEL
In redesigning the upper deck of the Airbus A380 (the largest passenger airplane in the world), design firm Acumen created nine "First Apartments." Six can even be joined together like connecting hotel rooms.
"Airlines aim to be increasingly savvy at using space in the most efficient and effective way, investing heavily in creating unique layouts that provide personal space and privacy, says Nigel Lawson, creative director from Acumen.
And providing more options means more opportunities to make money. In the future on the A380, you could have bowling, says Dimitri Mavris, director of the Aerospace Systems Design Laboratory at Georgia Tech.
"If you're not going to cram people together like sardines, you might as well have other things for them to do," Mavris adds.