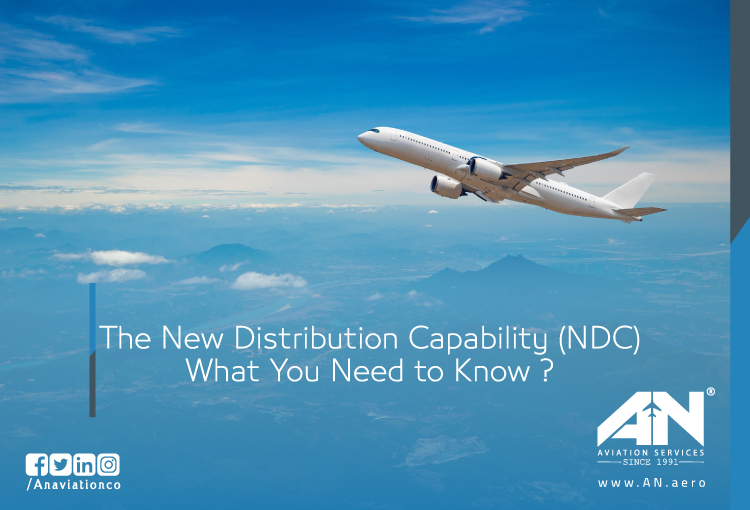 All airlines share two fundamental needs, revenue and passenger satisfaction. To achieve customer satisfaction, airlines search for ways to gain knowledge about them and offer a variety of extra services such as baggage insurance and onboard food. These services, known as ancillaries, are available for a fee.
Given that communicating with the end user via the channels provided by global distribution systems ( GDSs) is nearly impossible, a new standard has emerged to address the issue. When the New Distribution Capability (or NDC) debuted in 2012, it brought significant changes to the airline industry.
Also, NDC was first implemented by Lufthansa, British Airways, American Airlines, and Iberia.
What is THE NEW DISTRIBUTION Capability (NDC)?
NDC, or the New Distribution Capability, is essentially an XML standard developed by the International Air Transportation Association (IATA) in order to improve the shortcomings of the current airline distribution system and change how the air travel industry sells its products.
Why was NDC established?
The development of NDC was influenced by two interrelated factors. The first issue arose only recently. Airlines sought a method to share "rich content" in the 2000s.
Rich content would enable airlines to bundle ancillary services with their flights, allowing them to differentiate themselves from competitors, provide more personalized offers, and boost revenue.
However, existing GDSs could not handle this level of product differentiation using their old EDIFACT protocol. As a result, airlines were forced to cut one of their major profit sources.
Second, airlines were increasingly looking for ways to bypass the GDS-centric distribution system and reclaim control of their distribution channels. The existing system was complex, requiring multiple systems to publish For example, if an airline wanted to change their prices, they'd have to update them on a third-party system.
What makes GDS and NDC different from one another?
GDS stands for Global Distribution System, and it acts as the middleman between a travel agent and an airline. GDS functions as a reservation system, allowing travel agents to book, change, or cancel a ticket. GDS also allows travel agents to make hotel and car reservations.
New distribution capability (NDC), on the other hand, is entirely dependent on what the airlines provide. Some airlines offer NDC content that is not available in GDS. Transactions between airlines and travel agencies can be made easier thanks to this capability. Plus, it skips the GDS fees.
The Advantages of New Distribution Capability
These ticket sellers are kept up to date on each airline's most recent offers and products thanks to the NDC standard. This enables the customer to see the entire range of products and services that are available.
benefits Of NDC:
Even when buying from a third party, you have direct access to upgrades, exclusive packages, or limited-time offers. You can tailor the entire experience to your personal preferences.
All airline options, not just the most expensive ones, can be compared, along with their various services, goods, and special offers. Airlines can distribute their products more extensively and quickly through third-party agents or sites.
The same content that airlines offer on their websites can be sold by travel agents.
The disadvantages of New Distribution Capability
Despite the fact that NDC has been around for a few years, it is still in its early stages and far from perfect.
NDC drawbacks:
NDC is a system built on XML. This indicates that the XML coding language is used to write the system code. Although this language is intended to be standardized, its implementation is dependent on each airline's IT provider.
What are the challenges faced in implementing NDC?
1– NDC implementation from airlines is not the same
For Airlines to implement NDC they have to either depend on their Passenger Service System Providers (PSSs) or NDC Certified IT Providers who consume the APIs to the IT Providers Offer and Order Management System from the PSS and expose the same as an API out to the various customer engagement layers of the airline.
The challenge here is that different PSS providers use different versions for each airline, different IT providers use different versions and different IATA NDC Schema to consume and expose. There is no standardization of API.
The second challenge is that more and more airlines are coming up with their own Airline Agent Platforms where travel agents have to login into individual screens of each airline.
2– It's not standardized
While some airlines have adopted NDC and its XML-based standard, the practical implementation is different for each airline. Nearly every airline has taken a unique approach to NDC and created custom APIs and Airline Agent Platforms.
If that trend continues, it means that OTAs, TMCs, and even GDSs would need to integrate with each airline, and/or Travel Agents will end up logging into each Airline Agent Platform, something that they won't be willing or able to do.
This has created a need for someone like NDCMarketplace to standardize or aggregate the different NDC channels.
3– GDSs are adopting New Distribution Capability
In response to NDC's potential to allow airlines to avoid GDSs, the GDSs have begun to adopt NDC themselves. What does this mean?
It is likely that we will see the continued spread of NDC but with different commercials. Airlines use to pay GDSs and in turn, GDSs would pay the Travel Agents, for each segment booked. This is now changing.