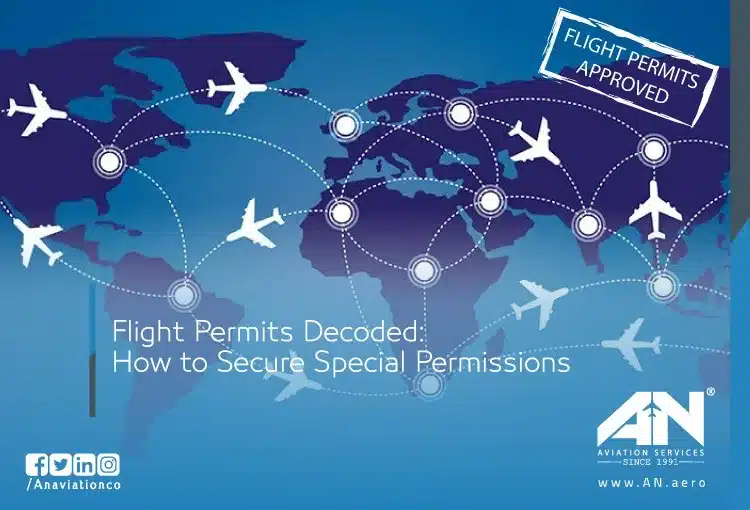 Aviation is a complex web of regulations and permissions, and one of the most critical aspects of international flight operations is securing the necessary permits. In this blog post, we'll talk about the intricacies of special permits, overflight permits, landing permits, and the regulations surrounding their issuance. Whether you're a seasoned aviation professional or a curious traveler, understanding these essentials is crucial.
Special Flight Permits
Special permits, also known as ferry permits or flight permits, play a significant role in aviation, allowing aircraft to operate outside their normal limitations. These permits are necessary for aircraft that require maintenance, repairs, or flight testing. Here's a closer look:
What is a Special Permit?
A special permit, often issued by civil aviation authorities, grants temporary permission for specific flight operations.
Why are Special Permits Needed?
Aircraft may require special permits to fly for purposes like repairs, delivery to a new owner, or certification testing. These permits ensure safety and compliance with regulations during non-standard flight operations.
How to Obtain a Special Permit
Obtaining a special permit is a meticulous process that involves several crucial steps. These permits are not handed out casually; they are granted with a strong focus on safety, compliance, and the necessity of the flight.
The first step in obtaining a special permit is to provide comprehensive documentation outlining the reason for the permit. This documentation should be clear, concise, and well-structured.
The purpose of the flight must be well-defined. Whether it's for aircraft maintenance, delivery to a new owner, or certification testing, this purpose should be articulated in detail.
Technical specifications of the aircraft and any modifications or special equipment needed for the flight must be included. These specifications ensure that the aircraft can safely perform the intended operation.
Overflight and Landing Permits
Overflight and landing permits are essential for international flights. These permits allow an aircraft to enter and exit foreign airspace and land at specific airports. Here's what you need to know:
Understanding Overflight Permits
Overflight permits grant permission for an aircraft to pass through another country's airspace without landing. These permits ensure compliance with international regulations and diplomatic protocols.
Landing Permits Demystified
Landing permits, on the other hand, are required for aircraft to touch down on foreign soil. They are issued by civil aviation authorities and may involve a payment.
Technical Stops and Permits
Sometimes, flights make technical stops to refuel or address minor issues. Special permits may be required for these stops, depending on the country's regulations.
Regulations Regarding the Issuance of Flight Permits
The issuance of flight permits is governed by a set of regulations, both international and specific to each country:
International Regulations
When it comes to international aviation regulations, the International Civil Aviation Organization (ICAO) takes center stage. This United Nations agency plays a crucial role in establishing and maintaining guidelines that govern the issuance of overflight and landing permits worldwide.
For overflight permits, ICAO standards dictate the general requirements for obtaining permission to fly through another nation's airspace without landing. These standards encompass factors like flight routes, altitudes, and communication protocols, all of which contribute to safe and orderly international air travel.
Country-Specific Regulations
In addition to ICAO's overarching guidelines, individual countries possess their own unique regulations governing flight permits. These country-specific regulations can vary significantly from one nation to another, making it imperative for aviation operators to conduct thorough research and meticulous planning before embarking on international flights.
These regulations encompass a wide range of aspects, including the types of permits required, documentation prerequisites, and specific procedural details. They may also address security concerns, diplomatic clearances, and customs and immigration processes relevant to aviation operations.
The diversity in these regulations means that flight operators must tailor their permit applications and operational strategies to align with the specific requirements of each country they intend to overfly or land in. This intricate process demands meticulous attention to detail and a keen understanding of the unique regulations of each destination.
Payment and Fees
One aspect of flight permits that cannot be overlooked is the financial component. In general, when obtaining landing permits, aircraft operators can expect to incur fees. The amount of these fees can vary significantly, and they depend on several factors.
First and foremost, the size and type of the aircraft play a significant role in determining permit fees. Larger or heavier aircraft may face higher fees due to increased infrastructure usage and potential environmental impacts.
Additionally, the purpose of the flight can influence the cost. Commercial passenger flights, cargo operations, and non-commercial flights like humanitarian missions or private charters may face different fee structures. Some countries may offer waivers or reductions for specific types of missions, such as relief or humanitarian flights.
The specific policies and practices regarding payment and fees also differ from country to country. Some nations may require upfront payment, while others may invoice operators after the flight's completion. These financial considerations should be factored into the overall budgeting and planning process for any international flight.
Conclusion
In the intricate world of aviation, special permits, overflight permits, and landing permits are indispensable. They facilitate international travel and ensure compliance with regulations set by civil aviation authorities worldwide. Understanding these permit types and the associated regulations is vital for a smooth and safe flight experience.
As you embark on your aviation journey, remember to consult with experts and plan well in advance. The skies are open to those who navigate the complexities of permits with precision and knowledge.