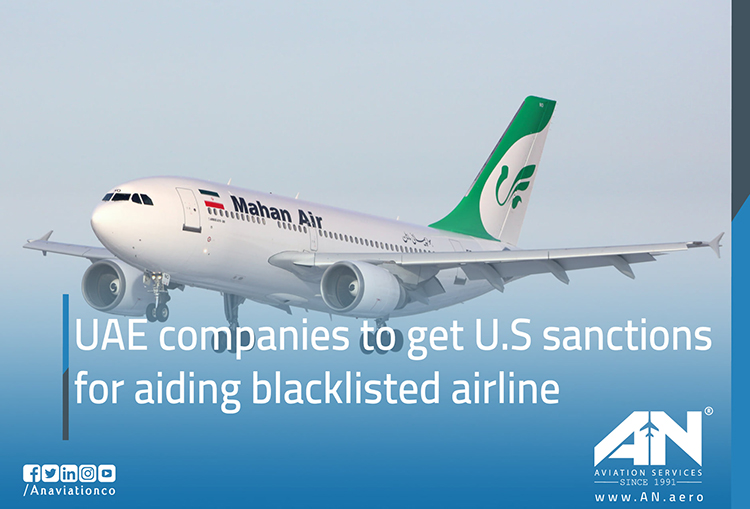 The United States imposed sanctions on two United Arab Emirates-based companies for providing material support to Iranian airline Mahan Air, reported the U.S Department of the Treasury.
Impose sanctions Fresh on the UAE-based Parthia Cargo and Delta Parts Supply FZC, which allegedly provided logistics services and key parts for Marhan Air.
According to the Department of the Treasury, U.S. added Tehran-based Iranian airline is to blacklist under measures to fight terrorism and reduction the proliferation of weapons of mass destruction.
Additionally, the U.S impose sanctions on Amin Mahdavi, an Iranian national based in the United Arab Emirates, for owning or controlling Parthia Cargo.
"Parthia Cargo and Delta Parts Supply FZC have provided key parts and logistics services for Mahan Air. both designated under counterterrorism authorities for support to Iran's Islamic Revolutionary Guard Corps-Qods Force (IRGC-QF), as well as under a counter-proliferation authority that targets weapons of mass destruction proliferators and their supporters",  report in the Department statement.
According to Reuters, after the United Nations (UN) Security Council rejected an earlier U.S bid to extend an arms embargo on the country.
The administration of the U.S. President Donald Trump plans to push for a repeated imposition of all UN sanctions on Iran.
"The Iranian regime uses Mahan Air as a tool to spread its destabilizing agenda around the world, including to the corrupt regimes in Syria and Venezuela", Steven Mnuchin, Secretary of the Treasury, said in the announcement.
The Secretary claims that the U.S is likely to continue taking actions against those who are supporting the Iranian airline.
The blacklisted companies provided the maintenance services for Mahan Air thus contributing the airline to carry out activities in support of Tehran such as ferrying weapons.
Transporting Iranian technicians and technical equipment to Syria and Venezuela, according to the U.S. authority.
However, The U.S. filed criminal charges against Parthia Cargo and its owner Mahdavi earlier in August 2020.
These charges related to the "alleged unlicensed re-export of U.S.-export controlled aircraft parts to Iran", the Treasury Department added.
Quoted:
https://www.aerotime.aero/uae-companies-to-get-u-s-sanctions-for-aiding-blacklisted-airline