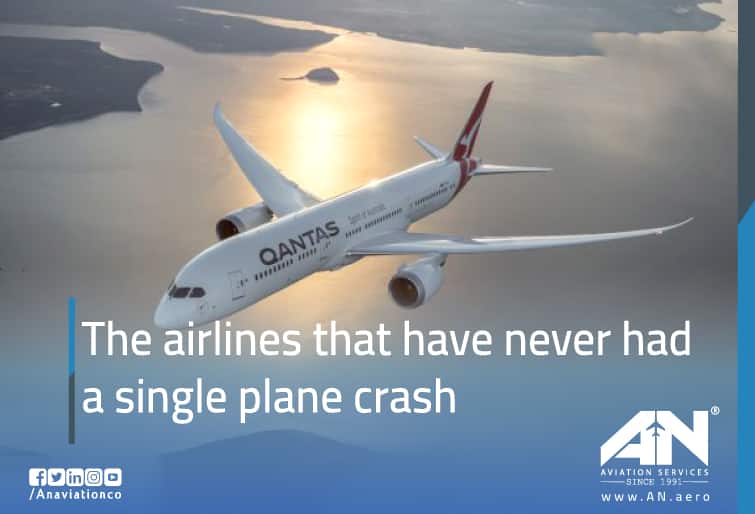 While any plane crash in the modern age may feel like a freak occurrence, there's no escaping the fact that some airlines are safer than others.
That much is made by clear by the existence of an EU "blacklist" of carriers banned from flying above European airspace (don't worry, they are all very obscure), but a more thorough look at the incident logs of some of the world's oldest airlines reveals that some are so safe they've never – or almost never – had a fatal crash.
Here we round up some of the better-known airlines with a spotless safety record in the jet era.
The list no longer includes Southwest. Last year, in April, an incident on one of its aircraft – in which a woman died after a window was smashed by an engine part – put a rare blot on its otherwise clean safety record. Though not a crash, it was the first in-flight fatality for the American airline, which has been flying since 1971.
Qantas
Flying since 1921
The third oldest airline in the world, Qantas was cited in 1988 film Rain Man as an airline to have never had an aircraft crash. "Qantas. Qantas never crashed," says Raymond, played by Dustin Hoffman. And while this fits the bill as far as the Australian airline's outstanding reputation for safety is concerned, it is not strictly true. The airline has had eight fatal accidents, all before 1951, with four taking place during the Second World War while Qantas was operating planes on behalf of the Allies. Indeed, one aircraft was shot down.
In 1951, a de Havilland Australia DHA-3 Drover crashed off the coast of New Guinea after the centre engine's propeller failed. The pilot and all six passengers were killed.
Qantas has not had a fatal accident in the jet age, however, and only a handful incidents of note.
Hawaiian Airlines
Flying since 1929
Hawaiian has been flying planes since 1929 and never once had a fatal accident, making it, if our stats stand up, the longest functioning carrier to have never lost a passenger. It may have suffered two bankruptcies (1993 and 2003) but it has not compromised on safety. The airline began life flying light aircraft on sightseeing flights over O'ahu and today serves a number of Pacific destinations, including New Zealand, Australia, Asia and the US West Coast.

EasyJet
Flying since 1995
EasyJet has never had an accident. In fact, its history is so incident-free, it's difficult to find any serious issues to have befallen one of its flights.
Flying since 1985
In 33 years of flying, the closest the carrier has come to a serious accident was in 2008 when an aircraft was forced to make an emergency landing in Rome after experiencing multiple bird strikes to the nose, wings and engines. It is believed the aircraft hit some 90 starlings. On landing, the left hand landing wheel collapsed and the plane made contact with the runway. The aircraft was damaged beyond repair and two crew and eight passengers were taken to hospital with minor injuries.

British Airways
Flying since 1974
British Airways has only had one fatal accident while operating in its current form: the mid-air collision of its Trident 3B with the aircraft of a Slovenian airline in the skies above the Croatian city of Zagreb. However, in 1985, under the moniker of BA's British Airtours subsidiary, a 737 crashed after taking off from Manchester Airport because of an engine failure, sparking a fire that spread through the cabin killing 53 of the 131 passengers and two of the six crew members.
Since 1985, BA has never had a fatal accident, the closest call coming in 2008, when First Officer John Coward earned his place in the aviation Hall of Fame by landing a plane without any power.
BA ranks among the world's top 20 safest airlines according to AirlineRatings. British European Airways, founded in 1946 but merged with British Overseas Airways Corporation in 1974 to create British Airways, suffered a number of fatal accidents.
Emirates
Flying since 1985
The Dubai-based airline, now operating more than 3,600 flights a week, has never had a fatal accident, and only suffered one hull loss (the write-off of an aircraft), when a Boeing 777 crash-landed at Dubai International. The plane caught fire and exploded on the runway after the majority of passengers had evacuated. However, a firefighter was killed in the blaze.

So which airlines have never crashed?
According to Plane Crash Info, there are 42 airlines to have never suffered a fatal accident in their history, including pre-jet engines. However, for some reason the website's list does not include Etihad. Nor does it include Qantas, because of the airline's earlier crashes.
Quoted:
https://www.traveller.com.au/worlds-safest-airlines-the-airlines-that-have-never-had-a-single-plane-crash-h1cbpo