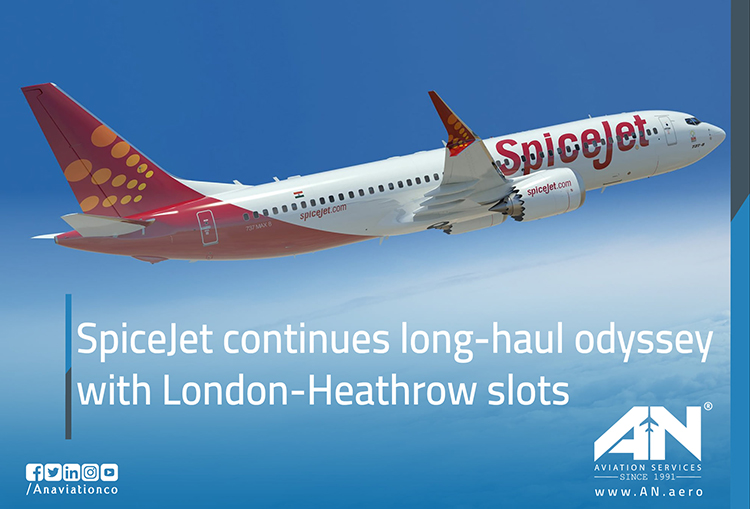 After SpiceJet designated airline announced its intentions to establish routes between India and the United Kingdom and the United States, the India-based low-cost carrier announced that it has acquired slots to operate at London Heathrow Airport (LHR) to continue its long-haul odyssey.
Effective September 1, 2020, SpiceJet will start its operations in the capital of the United Kingdom. The airline will be able to do so under the travel bubble agreement between India and the UK, with the low-cost carrier flying between the two countries until October 23, 2020, when the airline's summer season ends.
"The Company is also in advance discussion to secure slots for the winter schedule for regular operations," reads SpiceJet's statement in the BSE.
On August 1, 2020, the low-cost carrier made its first low-cost long-haul journey from Amsterdam Schiphol Airport (AMS), Netherlands to Bengaluru Kempegowda International Airport (BLR) in India. From BLR, it continued to another Indian airport, namely Hyderabad Rajiv Gandhi International Airport (HYD).
While the Indian airline excitedly marketed the flight as its own, it was operated by an Airbus A330-900neo that belongs to Hi Fly, a Portugal-based aircraft, crew, maintenance, and insurance (ACMI) company. The flight from AMS to BLR was operated under Hi Fly flight code, while the domestic connection to HYD was flown using the same A330neo under flight SG471, SG being a SpiceJet designator.
Its plans to continue long-haul flights continue to raise eyebrows, as the airline still has zero wide-body aircraft in its fleet or on order. SpiceJet designated airline tried to apply for slots at London Heathrow Airport (LHR) for the Winter 2020 season, yet was unsuccessful. Data from Airport Coordination Limited (ACL), a slot coordinator for airports all across the globe, shows that SpiceJet attempted to acquire 42 slot pairs, yet received zero.
The airport coordinator has not indicated any completed slot trades that involved the Indian airline.
Nevertheless, it acquired 18 slots at London's second busiest airport, Gatwick Airport (LGW). Out of the requested 28, SpiceJet was assigned 18. The ACL report reads that the Indian carrier plans to fly between LGW and Chhatrapati Shivaji Maharaj International Airport (BOM) and Indira Gandhi International Airport (DEL).
Quoted:
https://www.aerotime.aero/rytis.beresnevicius/25582-spicejet-lhr-slots