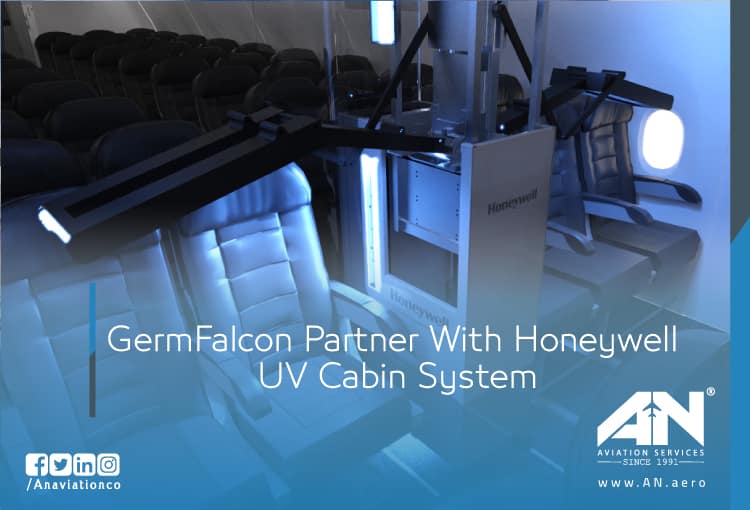 For the past few years Dimer LLC pushed its GermFalcon offering as a quick, effective, cheap solution for aircraft sanitation. But going it alone in the market was challenging. Today, owing in large part to airlines' need for increased disinfection levels on board because of COVID-19. The corporate announced a partnership with Honeywell to bring the ultraviolet cleaning system into mass production.
The Honeywell UV Cabin System
The UV-light emitting cart will treat an aircraft cabin in less than 10 minutes for just a few dollars per flight for midsize to massive airline fleets.
This offer is a big win for our airline customers, that are seeking affordable ways to clean their cabins effectively and quickly between flights. Honeywell is working on a variety of solutions to help make passengers more comfortable about flying.
Using Ultraviolet-C light to kill germs on board
Honeywell is quick to point out that the product has not undergone specific testing for the elimination of the COVID-19 virus. However, the corporate also points out, "Medical studies have found UVC lights capable of reducing certain viruses and bacteria. As well as sars CoV and MERS CoV – depending on UV dosage and correct application." UVC refers to ultraviolet light with wavelengths between 200 and 280 nm.
For a mid-size or larger airline. The companies believe that the per-aircraft cleaning cost can be reduced to less than $10 over the life of the system. They didn't state what that timeline looks like, however.
The Honeywell UV Cabin System is roughly the size of an aircraft beverage cart and has UVC light arms that stretch over the top of seats and sweep the cabin to treat aircraft surfaces. Honeywell indicated it's in discussions with multiple potential customers.
The exclusive, global partnership between dimer and Honeywell covers production, marketing and sales of the GermFalcon as the Honeywell UV Cabin System. As well as potentially other UV devices targeting the aerospace industry.
"Working with Honeywell puts this technology in the hands of a worldwide aerospace leader that can quickly deliver to airlines and other aircraft operators," said Elliot M. Kreitenberg, co-founder and president of dimer LLC. "As the travel industry begins to recover, we know hospital-grade technology will ease passenger concerns, and that's what we're providing with this system."
GermFalcon was a finalist in the 2017 Crystal Cabin Awards for Greener Cabin, Health, Safety and environment. it was edged out in the voting by a drinks trolley that improved recycling options on board.
This is not the only UV-C choice available to airlines. However, it's one of the older and more established offerings in play. United Airlines recently launched its CleanPlus program that includes "Testing UV sanitation deployed by drones and hand-held wands," among the many cabin cleaning options.
Source