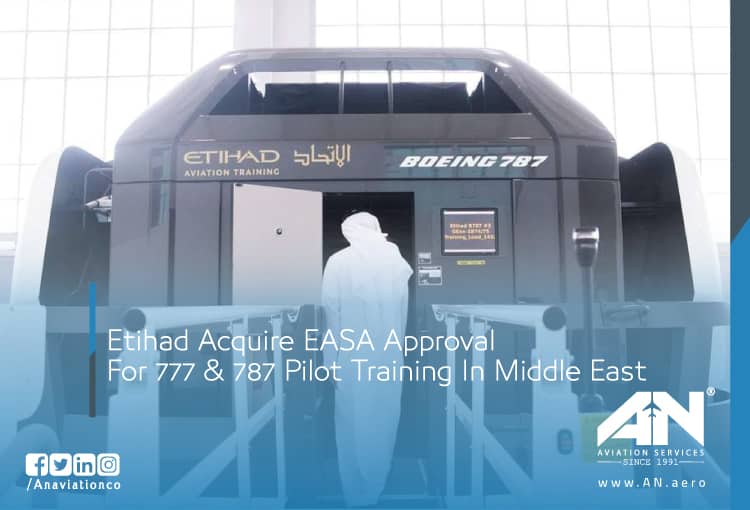 Etihad announced that the Abu Dhabi-based carrier's training center. Etihad Aviation training was approved by the European Union Safety Agency (EASA). To train Boeing 777 and Boeing 787 Dreamliner pilots for European carriers.
The Middle East company is the 1st training center within the region to achieve such approval. Adding the two widebody aircraft to its portfolio of aircraft types, already consisting of several airbus aircraft, specifically the A320, A330, and the A340. The training center is also planning to add the A350 capabilities, according to the press release.
Vice President and managing director of Etihad Aviation training Captain Paolo La Cava said that the fact that Etihad Aviation training is currently designated as an Approved Training Organization by EASA. This means the training center can offer its services to more markets, "particularly within the fast-growing Asia region where EASA standards have been adopted," La Cava noted.
"This approval also strengthens the credentials of Abu Dhabi as an aviation center of excellence for aircrew training and other services including maintenance and engineering."
Currently, Etihad Aviation training has 11 full-flight simulators, as well as 5 for the Boeing 777 and also the Boeing 787.
The added training capabilities will permit Etihad to bring in additional revenue. Etihad Aviation Group, that also includes subsidiaries like a cargo carrier and a ground handling unit, has had a few disastrous years. In 2018, the airline announces a net loss of $1.28 billion, which is an improvement over its 2017 result, when it finished the year off with the bottom line reading a loss of $1.52 billion.
In 2019, the group declared that it'll partner with Air Arabia and establish a brand new low-cost carrier based in Abu Dhabi, Air Arabia Abu Dhabi.