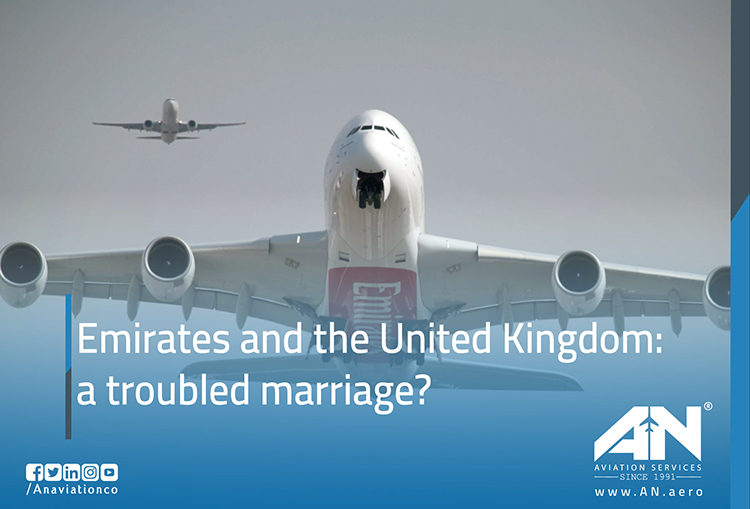 Emirates and the United Kingdom were seemingly in a happy marriage, as the Dubai-based airline increased its presence in the British Isles over the last couple of years with new destinations and increased capacity to previously served airports.
"The UK is one of the most profitable markets on our network," stated the President of Emirates Tim Clark in an interview in 2019. "We have continued to witness growth both in terms of capacity, in terms of profits, and in terms of points served over the last three, four, five years. It is a really strong story for us," added Clark.
But could have the corona crisis exposed weaknesses in the marriage story between the two?
After all, the airline was one of the most exposed companies in aviation. Along with other hub-and-spoke-based airlines, as well as its nearby rival Qatar Airways or the South East Asian giant Singapore Airlines to name a few, the carrier had no optimal domestic network to support its operations at least on a smaller scale. The all-wide-body fleet operator had no choice but to completely suspend its passenger operations in March 2020.
The importance of the United Kingdom market
In April 2020, Emirates resumed small-scale operations with its Boeing 777 fleet, as the company's 115 A380s sat on the ground, waiting for better days to come. London-Heathrow (LHR) was amongst the list of the airline's first five destinations after the suspension of its operations, as the airline announced four weekly flights to the British capital. The four other cities received a tri-weekly flight.
In June 2020, more destinations were added, including Manchester Airport (MAN) and Glasgow Airport (GLA).
When its flagship Airbus A380 returned to the skies on July 15, 2020, the aircraft first landed in LHR. The same day, the Emirati airline announced its intentions to increase the capacity between Dubai and London by adding another A380 to the route, increasing the frequency to two flights per day.
But even prior to the pandemic, the United Kingdom was a crucial market, as highlighted by the fact that London is the most popular city in its network, noted Clark in an interview with FlightGlobal. OAG estimated that Emirates' Dubai International Airport (DXB)-London Heathrow Airport (LHR) route generated $796 million of revenue throughout 2018/2019. During the same year, Emirates generated AED78.5 billion ($21.3 billion) of revenue.
The airline looked to expand its presence further at LHR, yet was denied. Airport Coordination Limited (ACL) data shows that Emirates unsuccessfully applied for four additional slots at London's busiest airport for the Winter 2020 season. ACL's documents show that airlines were not given permission to use 11,176 of the allocated slots due to runway constraints at the airport.
Quoted:
https://www.aerotime.aero/rytis.beresnevicius/25573-emirates-united-kingdom-market