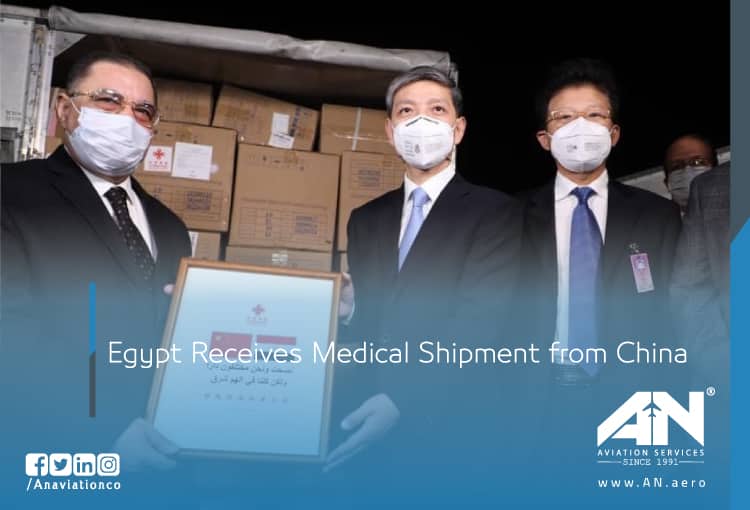 AN Aviation Services Co. is proud of handling the shipment that was sent from China to Egypt. That Includes preventive medical supplies and coronavirus detectors. Within the framework of the deep and strong relations between both countries, according to the Ministry of Health (MoH).
In an official statement, Health Minister Dr. Hala Zayed thanked the Chinese government and people on this gift. Praising the precautionary measures taken by Beijing to curb the widespread of the virus.
The minister also added that the shipment arrived at Cairo International Airport earlier today Thursday, in the presence of Chinese Ambassador to Egypt Liao Liqiang and MoH Undersecretary Dr. Mohamed Shawky.
The shipment includes 20,000 N95 respirator masks, 10,000 protective suits, and 10,000 virus detectors.
On his part, Liqiang said that this medical aid comes within the framework of the continuous solidarity and cooperation between Egypt's President Abdel Fattah El-Sisi and his Chinese counterpart Xi Jinping.
He also added that China will spare no information, and technical results to help Egypt contain this pandemic. In this regard, the ambassador noted that a video-conference meeting had been held a few days ago between experts from both countries to exchange views over COVID-19 fight.
And here some news videos that illustrate the depth of the relationship between Egypt & China Video 1, Video 2, Video 3
Since the pandemic outbreak, Egypt has expressed its readiness to support other countries that are badly affected by the virus.
On April 4, Egypt sent two military jets carrying medical equipment, protective suits, detergents and sanitizers to Italy in assistance to the Italian government to deal with the deadly virus.
On March 22, Egypt also sent more than one million medical face masks landed in the Italian Malpensa Airport. Italy has recorded a high number of deaths due to Coronavirus spread, with the death toll passing 20,000 cases.
On Saturday, Egypt sent Libyan 44 containers of detergents on the shipping line between Damietta Port and Libya's Tobruk Port. More than 127,000 people have died so far worldwide because of the coronavirus pandemic. And more than 2 million people have been infected with the COVID-19 as the cases continue to rise around the world.
Source
see.news