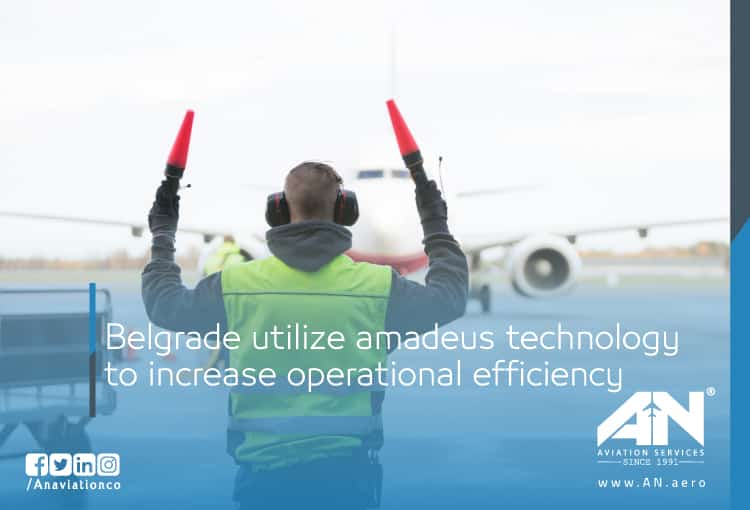 Belgrade's Nikola Tesla Airport has turned to Amadeus to transform check-in and flight management operations. By utilizing its Altéa Departure Control for Ground Handlers solution.
According to Amadeus, the solution paves the means for brand new services to provide passengers with a tailored experience. Key to restoring traveler confidence in today's changing travel environment. The move is part of the concessionaire, VINCI Airports' ambitious plans to develop the Serbian gateway.
Airport COO, Zarko Suvacarov, says: "Our goal is to create Belgrade's Nikola Tesla Airport the future hub in Southeast Europe.
"With a combination of full-service and low-cost carriers, we know we need to provide choice for a variety of customers and support the services they require. We aim to considerably improve the level of service, comfort and variety of commercial offer at Belgrade's Nikola Tesla Airport."
The seven-year partnership will see Amadeus technology deployed at Belgrade discoverer airport to streamline services and lay the foundations for greater automation to cater to the needs of different traveler types.
By automating key processes and guiding agents to follow best practices, it says. Services can be personalized based on a passenger's profile or airline policy and ensure last-minute revenue opportunities can be maximized.
Amadeus' solution will enable an efficient single system approach. This means ground handling agents don't need to waste time learning how to use multiple airline systems and resources can be deployed to concentrate on serving passengers.
Its flight management capability will be used to centralize load controlling to increase efficiency. And guarantee baggage is loaded in a way that optimally balances the weight of aircraft.
Meanwhile, airlines will soon be able to apply specific business rules and serve passengers in a tailored way at Belgrade Nikola Tesla airport.
Suvacarov adds: "The Amadeus solution provides a modern, reliable and widely-used system which will optimize our own internal processes and help us to provide more services to airlines and passengers. This includes supporting services that will enable us to quickly adapt to travelers' needs."
Yannick Beurnardeau, VP of airport IT, EMEA, for Amadeus, notes: "VINCI Airports has exciting plans for Belgrade, that is ready to become a key transport hub in the Balkans. With the support of modern, scalable systems, Belgrade can simultaneously provide the personalized services that today's passenger expects. As well as prepare for a more automated future which will enable the airport to adapt to the new and urgent challenges posed by COVID-19."
VINCI Airports signed a 25-year concession contract in March 2018 to finance, operate and upgrade the airport, with VINCI Airports assuming control in Dec 2018.
A key aim is to increase the number of passengers using Belgrade Nikola Tesla Airport from 6.2 million annually to 15 million within its concession period.