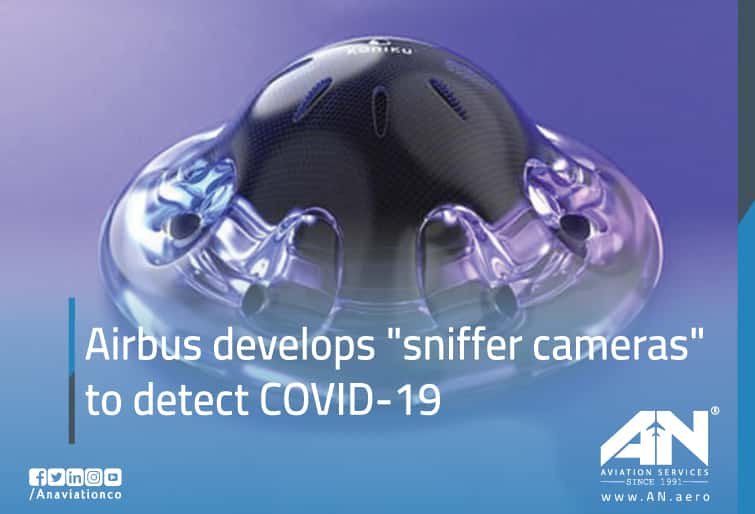 Airbus, the European airline giant, is developing an innovative technology that uses ultra-sensitive "sniffer cameras" to detect the COVID-19.
According to the Daily Mail newspaper, this technology – sniffer cameras – relies mainly on imaging technology that was invented in 2017 with the goal of using it to detect explosives.
Similar technology had already been used to screen for cancer and influenza, and it could soon be used to screen for people with the COVID-19.
The sensors in these cameras rely on microprocessors made from biological cells to identify specific chemicals or microbes floating in the air.
Airbus has partnered with California-based Koniko, which specializes in neurotechnology.
It is possible to modify the current technology to help fight the pandemic of the COVID-19, especially as the virus modifies slightly the particles produced by humans.
In a tweet on his account on the Internet, the founder and CEO of Koniko, Osh Ogabe, said: "Airbus and Koniko have been working since 2017 to develop biotechnology to discover, track and identify chemicals or explosives on board aircraft or at airports."
He added: "Today we are developing our development activities to include detection and identification of biological risks, including pathogens such as the emerging corona virus, with encouraging signs emerging from today."
Airbus said in a statement that the receivers in the sensors of olfactory cameras will send a warning message when certain molecular compounds are discovered.
This system will rely on contactless technology and will be faster, cheaper and more reliable than police dog training.
The Financial Times also reported that a variety of explosive detectors will be tested by the end of the year in the airport's inspection halls. This technology can then be used on the same aircraft in the future.
According to the authors of this project, there are already encouraging signs that this modified technology can be used to reduce the spread of the COVID-19.
"This technology has a very fast response time and less than 10 seconds of us in the best conditions," says Julian Tozo, director of security products at Airbus.
He added: "With this level of progress, I think we will achieve a wonderful result and we hope that this technology will improve over time."
Quoted: https://www.saudi24.news/2020/05/airbus-develops-sniffer-cameras-to-detect-corona-virus-2.html