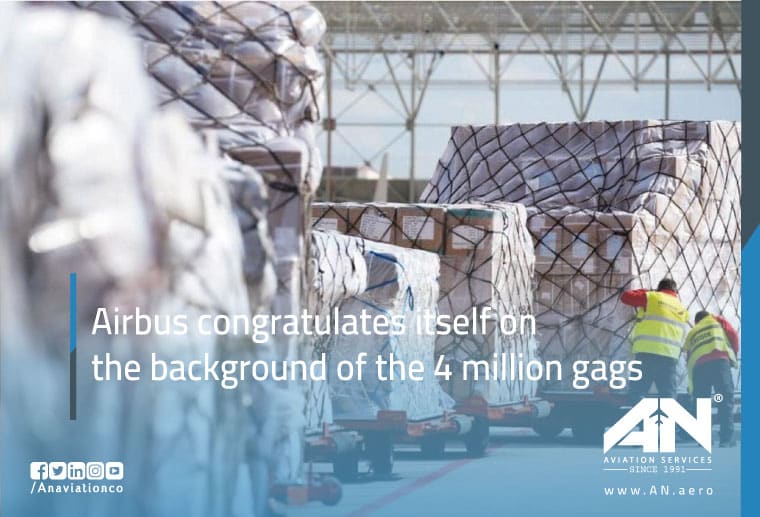 Airbus congratulates itself on the background of the "4 million gags"
Airbus plane Er 350-100 to Toulouse airport In the southwest France, Where the group is to deliver the shipment in the presence of the police, as seen by a photographer "France Press" agency .On Saturday evening, the plane from Tianjin (China) stopped  in a Hamburg which also includes an important site of the group in Germany, where it delivered the first shipment of gags.
Airbus CEO, Guillaume Fury, tweeted "Congratulations to the Airbus team returning from China, with 4 million face gags especially for governments and medical personnel, as part of our efforts to support their fight against the Covid-19".
Airbus  how these masks were distributed to countries. Airbus confirmed in a statement that the gags will be distributed to France, Germany, Spain and the United Kingdom, indicating that this process is the third between Europe and China executed by the company.
The statement added "Since mid-March, two similar missions have been conducted with the A380-800, and the A330MRTT (multi-role carrier).
The company also leased Airbus plane Type-A 400M of its fleet Polka to transport gags shipments between its European locations".
Also pointed that the company is providing its expertise, especially within a framework "Designing and producing respirators, 3D gags and basic hospitals equipment".
On Sunday Chinese authorities confirmed that they sold since March about 4 billion medical masks and equipment abroad, with a total value of more than 1.33 billion Euros.
Quoted