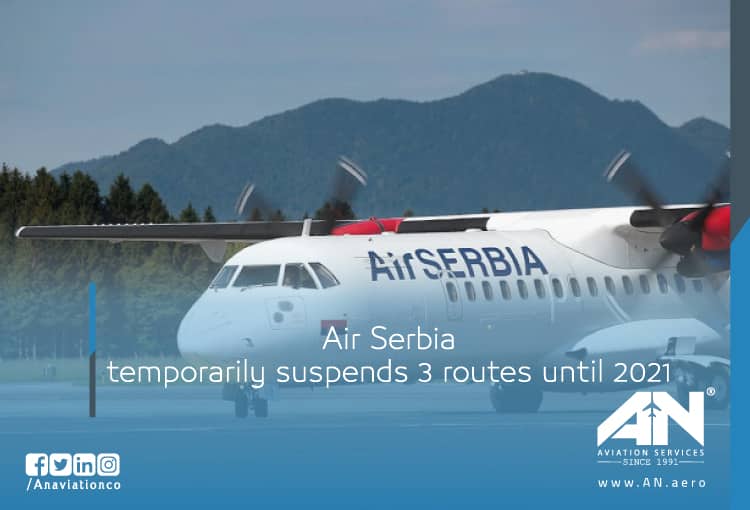 Air Serbia will briefly suspend its year-round flights to Madrid and Kiev, also its seasonal service to Nice. Until the 2021 summer season because of travel restrictions and falling demand. Operations to the Spanish capital will be discontinued from July 29 to Nice from August 8 and to Kiev from August 31. Moreover, the planned resumption of several destinations has been postponed by a few weeks. While frequencies to several cities are going to be reduced. The carrier intends on restoring operations to Rome, Milan, and Bucharest on august 16 instead of August 1, as initially planned. Additionally, the Serbian national airline plans to resume flights to Brussels following a break, on August 27. While services to Venice will start on August 31. Flights to Moscow and Tel Aviv, that were originally to be restored in August, have currently been pushed back to Sep 1.
All affected passengers are going to be informed regarding changes to the schedule and their new travel choices. Air Serbia previously discontinued its flights to Helsinki, Malta, Cairo, Beirut and Rijeka and canceled plans to launch operations to Lviv, Amman, Florence, Chisinau, Rostov on Don and Geneva. Last week, the carrier added a brand new destination to its network – a 2 weekly service to Oslo. "Due to the coronavirus pandemic and re-introduced flight bans and travel restrictions, we've been forced to further change our destination network in the coming period", the company said during a statement.
In a bid to attract travelers, Air Serbia has introduced a brand new service following its "Keep Boarding" program. The carrier has now launched "Flight Pass", that allows passengers to buy multiple tickets upfront with savings up to 50% for a group of prepaid flights. The new concept permits the purchase of a minimum of 4 tickets upfront with a set price and destination, which can be used at whatever time. The Flight Pass can also be shared with family members and friends and can be paid in installments. Air Serbia's Head of Passenger Service System and Distribution, Zoran Rodasavljević, said, "The needs of our passengers represent the priority that guides our operations, so we wanted to allow them to have the freedom to create their own offer that works for them the best. By purchasing multiple passes, they'll enjoy a greater discount. As has been the case thus far, we'll continue to work on always offering more to our passengers and creating added value for them".