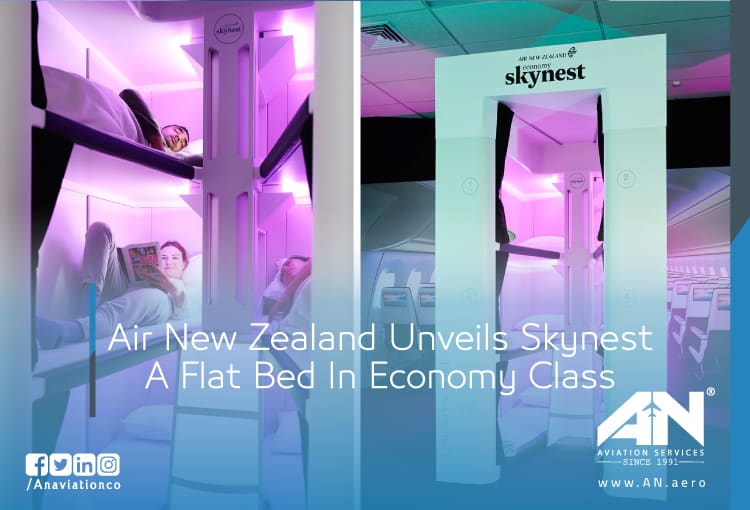 Air New Zealand just unveiled a brand new economy-cabin sleeping pod for its long-haul planes. The sleep pods, known as the Skynest, that would provide lie-flat beds for some economy passengers, who pay extra for access to it. There would only be six on each plane. Air New Zealand's long-haul planes generally carry a minimum of 200 economy passengers.
The product is still in the research phase. Air New Zealand said it would reach a final decision regarding implementation in late 2021. The airline said it spent 3 years researching concepts and developing the prototype.
"A clear pain point for economy travelers on long-haul flights is the inability to stretch out. the development of the Skynest is a direct response to that challenge."
Air New Zealand Chief marketing and customer Officer, Mike Tod
The Skynest appears almost like the crew rest areas on long-haul aircraft, which allow pilots and flight attendants to sleep in between on-duty shifts
It was not immediately clear where on the plane the Skynest would go. The airline said it's still researching where to place it in the economy cabin. it'll consider removing several rows of seats, if necessary.
The Skynest product comes as Air New Zealand prepares to launch its new longest flight, a 17-hour nonstop between Auckland and Newark. The service is scheduled to begin in late Oct 2020.
Air New Zealand's long-haul aircraft, a mix of Boeing 777 and 787 Dreamliners, have between 215 and 263 Economy seats. The airline said that just one Skynest unit would be included on each plane, meaning six beds for more than 200 passengers. The airline said that the pods could be purchased along with the seat reservation. So presumably, only six passengers will have the option to use the pods.
In 2011, Air New Zealand introduced something called SkyCouch. A row of 3 economy seats which can fold forward to create a completely flat space, one big enough for 2 people to sleep next to each other side by side.
Source:
samchui.com